Are you watching the show Yellowstone? If not, you have something awesome to discover, I haven't been this entertained in years. It's a modern western series that is suspenseful, intelligent, and beautiful on the eyes. Why am I talking about Yellowstone? Because I was going to write about how to pack for an equestrian or western-themed trip and I'm so obsessed with this show, I drew inspiration from their wardrobe. If you want to dress like Yellowstone characters, here's how you do it.*Disclosure: Affiliate links below. I earn from qualifying purchases at no extra cost to you, if you purchase via one of these links, thank you, this helps keep my website running!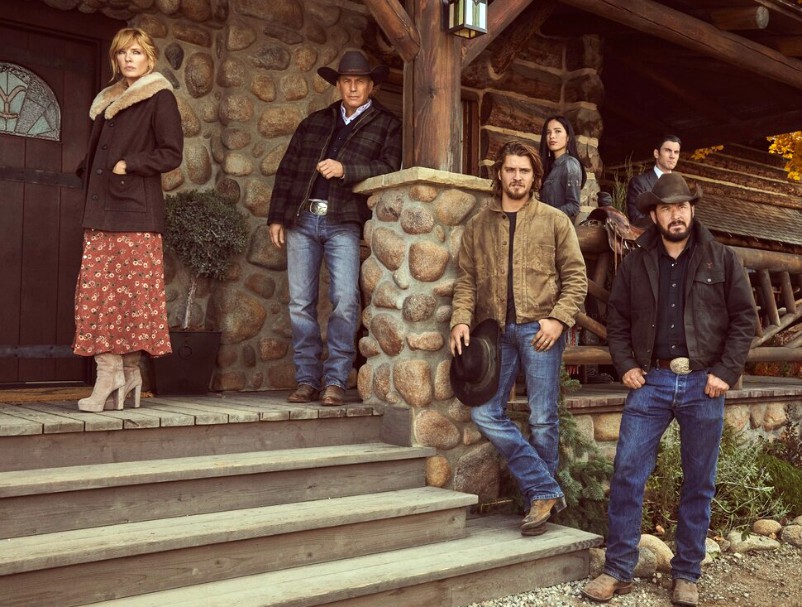 When I wear western or rancher style, I don't want to look like I'm wearing a costume. And that's what I love about the way the characters on Yellowstone dress, it's subtle and unassuming.
How to Dress Like Yellowstone Characters
The female lead's wardrobe is wonderful, I love the way she dresses. She wears expensive clothes (and a chunky turquoise ring to die for), but also stuff that is attainable. I'd love to have the $700 Filson trapper coat she wears, but I could be just as happy with the more practical Carhartt jackets they all wear on this show.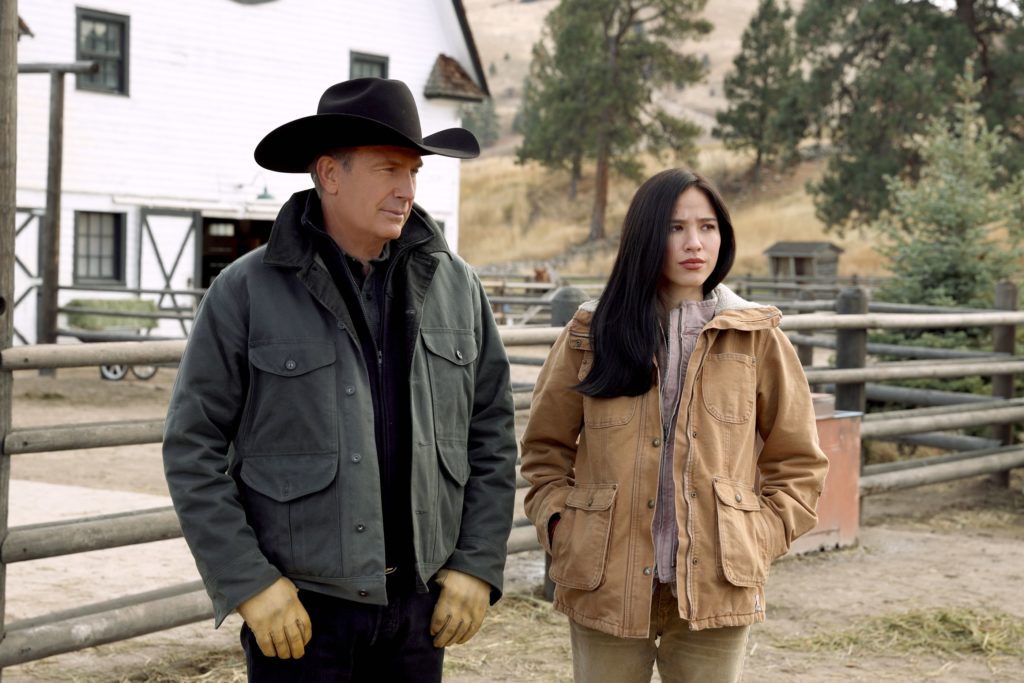 Both Monica and Beth wear Carhartt, and the guys wear the hoodies and jackets too. Monica is wearing the Weathered Duck Wesley Coat in this picture. I LOVE this coat. I'm wearing it in black and it is so cute and functional. It's made like a tank and will last forever, It's a coat that means business, but it's still flattering and fun to wear.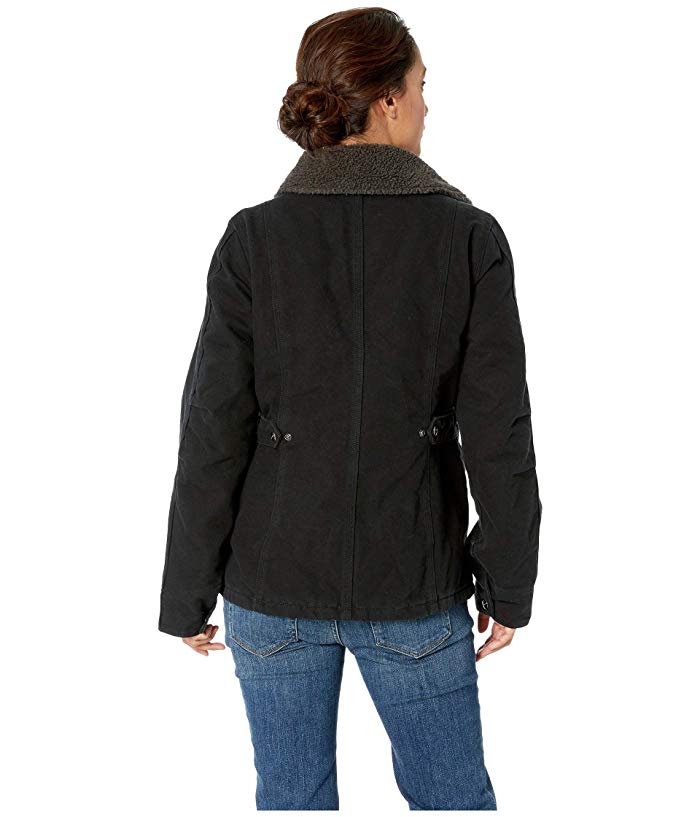 The back has adjustable side buttons that gives the jacket great lines. Inside there is a soft lining and a stash pocket. The jacket you see in the first picture of Beth Dutton (and the last photo in this article) is the Weathered Wildwood Jacket. This one has a slimmer, more fitted cut. It's got a zip chest pocket and inner stash pocket.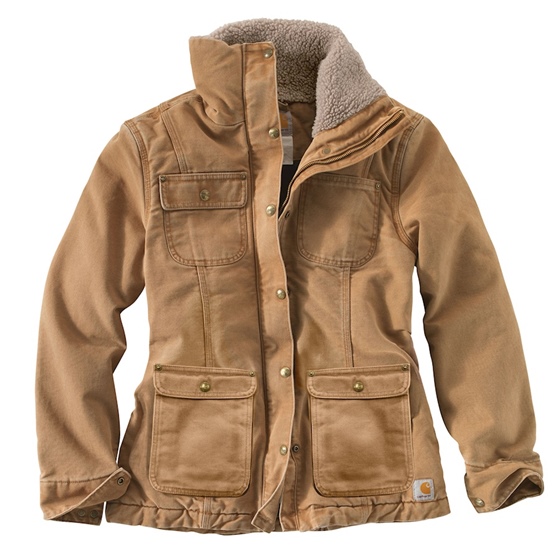 Both jackets have soft faux shearling at the neck. Both are a great choice for equestrian travel, and for daily living. Another thing you see on Yellowstone is Carhartt hoodies, the guys wear them all the time, Check out this Rain Defender Sweatshirt treated with DWR to help keep you dry in light rain.
Travel Friendly Conner Hats
I don't know if the characters on Yellowstone wear Conner Hats, but if they don't they definitely should. What I love about this brand is that they use eco friendly, cruelty free, and organic materials. These hats are extremely high quality and often waterproof. They look and. feel expensive, but they are not! I don't know how they do it. They have such a huge variety, you can get the exact look you are after. And–they are crushable and packable and made for men and women.

Right now I am in love with the Mt. Warning Hat. This hat is versatile, with a western look and also a sort of boho hippie chick vibe. There's seriously some cowgirl-surfer girl crossover here. It's packable and comes in a wide variety of colors. I warn you right now, you will probably want more than one.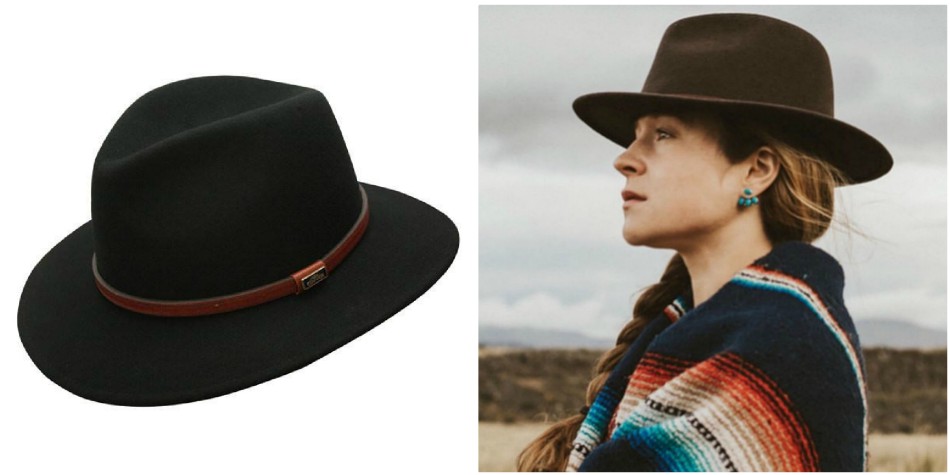 For a slightly more western-rancher look, I love the Jackaroo Hat. This hat is a beauty. that leather band is striking, it looks so rich. Both brims are 3 inches, which for me is just about perfect. I really can't decide which one I like better, but do note the Mt. Warning runs slightly larger. These hats come in sizes, I chose medium (probably could have gone small in the Mt. Warning). Both of these hats are subtle, if you want more of a classic cowboy style, they have those hats too. Right now I'm enjoying the versatility of these, but I do want to try a stronger cowgirl look for my next equestrian trip.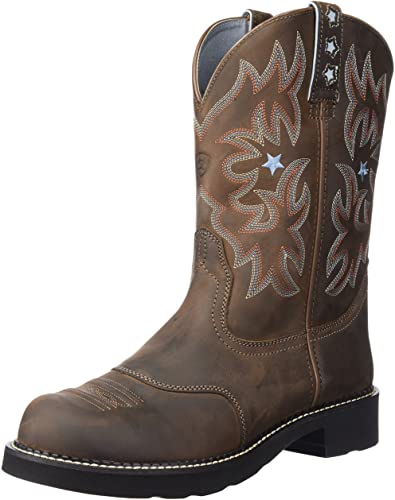 Ariat Boots
Ariat is another favorite brand for me, I've been wearing them for years and love how comfortable they are. I know Yellowstone partnered with another boot brand, but I've never worn them and can't vouch for them. Ariat, I can vouch for big time. They make footwear for men and women, sometimes I like the men's styles better for their ruggedness.
I travel with Ariat often and they give me the look I'm after with the functionality of being great to ride in and walk distances in. The Hybrid Rancher is a fun boot because of the colorful stitching, and I like that square toe. If you want something a little more low profile, I'm crazy about these Probabys and wear them all the time. They're another versatile boot and those stars on the sides are wonderful. Ariats run true to size so there's no guesswork.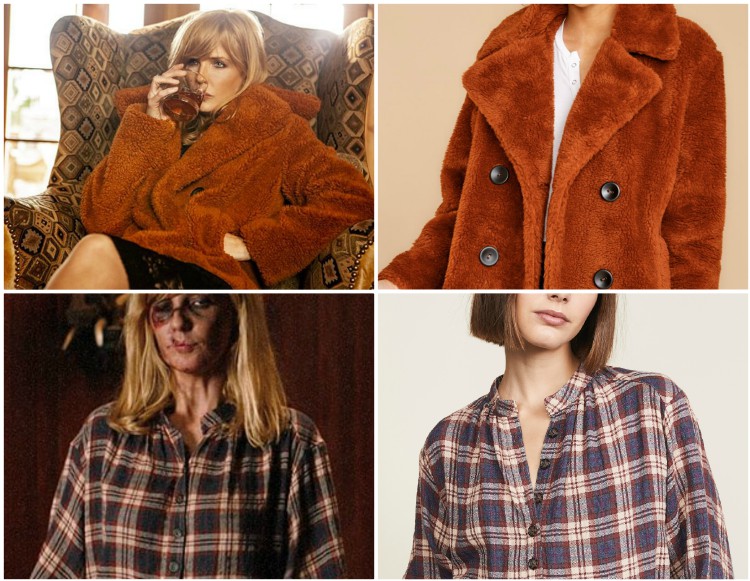 Plaid Top and Orange Furry Coat
Okay, I hate posting the picture of Beth Dutton in that Plaid Top because I hated the scene preceding it. But in case you want that shirt, it's the Free People Northern Plaid and you can still find it on Ebay for cheap. The furry orange coat, I think is this Inspiration Strikes Rust Orange Fuzzy Coat.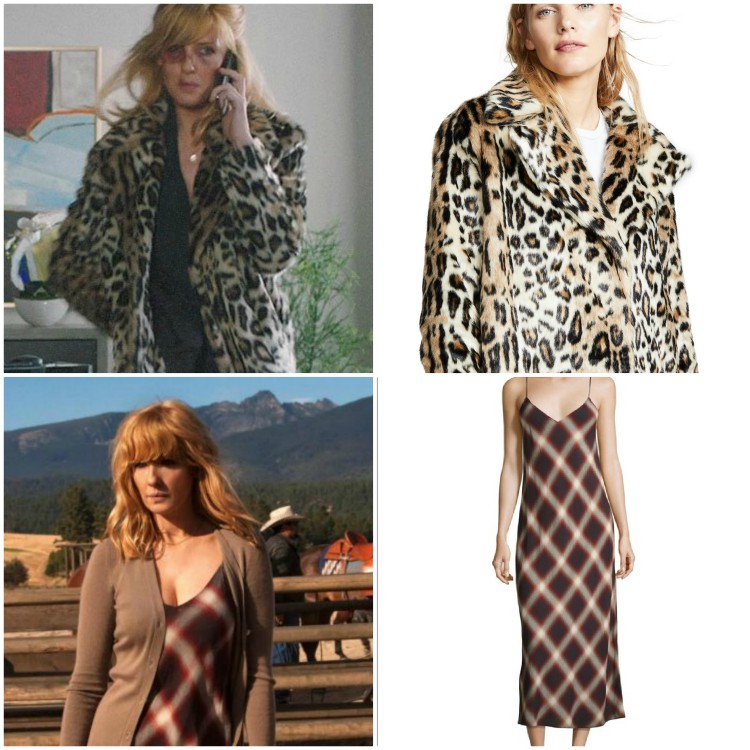 Vince Plaid Dress and Leopard Coat
This is not the dress you are all asking me about. I know you want the floral dress Beth wears with the Filson Coat. Can't find it anywhere. But I do have the plaid dress for you, it's the Vince Plaid Slip Dress. the leopard coat is this Frame Notched Collar Fur Coat. You can also find these on Ebay, but they are sold out in the stores as far as I know.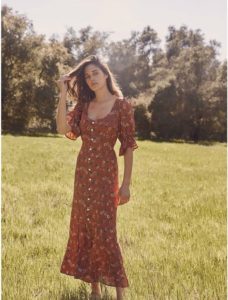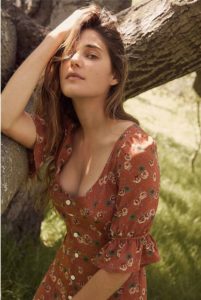 The Coveted Christy Dawn Lennon Dress
UPDATE: One of my awesome readers, Hannah (thank you Hannah!) found the dress! It's The Lennon Dress by Christy Dawn. You can get on the wait list by following that link.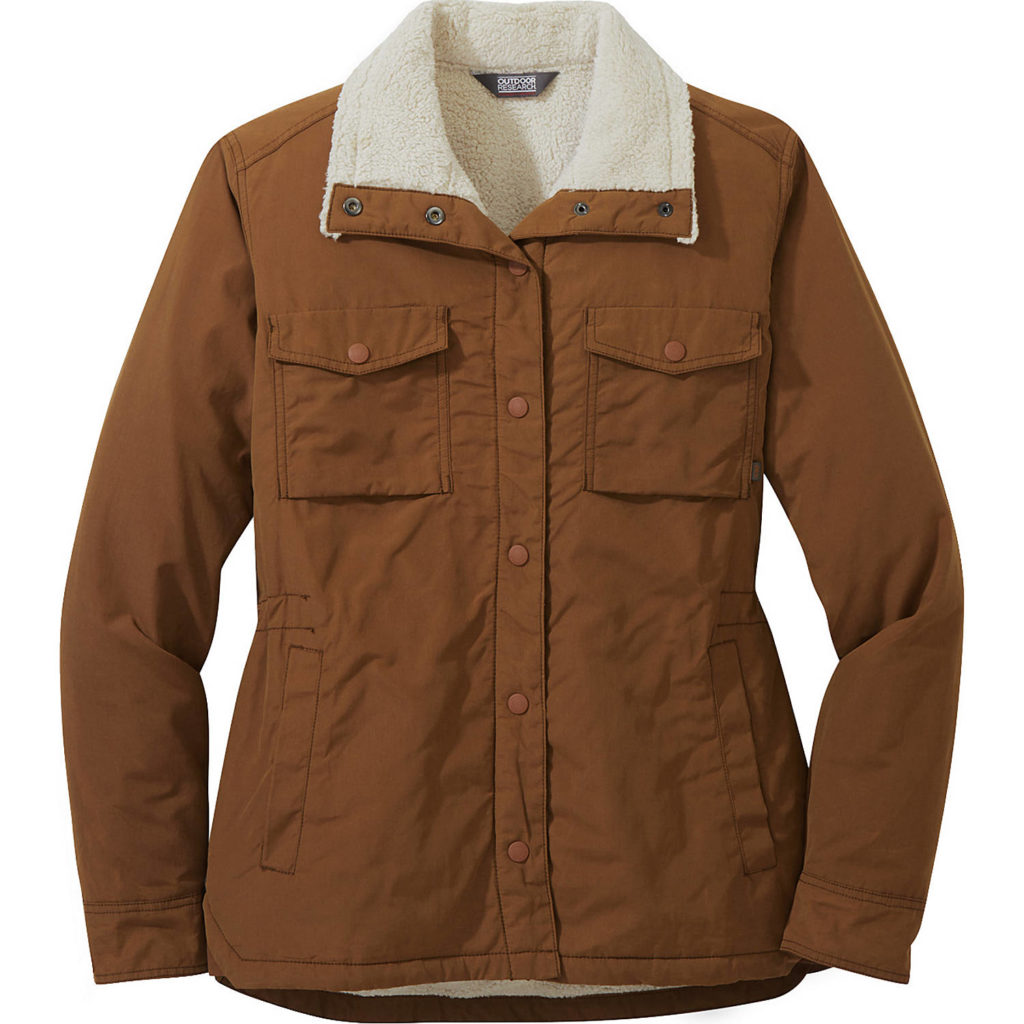 Ultra Light Outdoor Research Wilson Jacket
Outdoor Research surprised me with this one, I'm used to their clothing being technical and specific. They  brought some of that technical quality and made it raunchy. What I love about the Wilson Jacket is how ultra light weight it is. This is super packable and really nice for equestrian travel. You can read an in-depth review of this coat on my How to Pack for Fall post.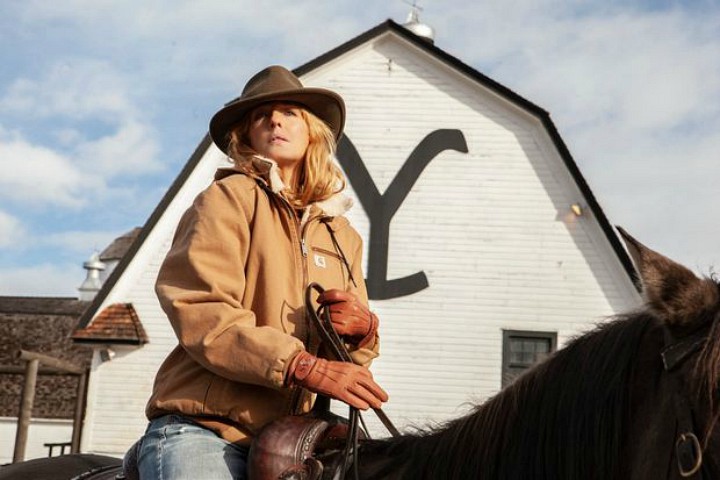 Let me know below if you spot any brands on Yellowstone that I should share. I can't get enough of this rancher style. Stay tuned for more travel friendly western looks because I am just getting started.
* UPDATED *
Okay guys, everyone is asking me about the fabulous blue poncho Beth is wearing in season three, episode 6, "All for Nothing."  I found it!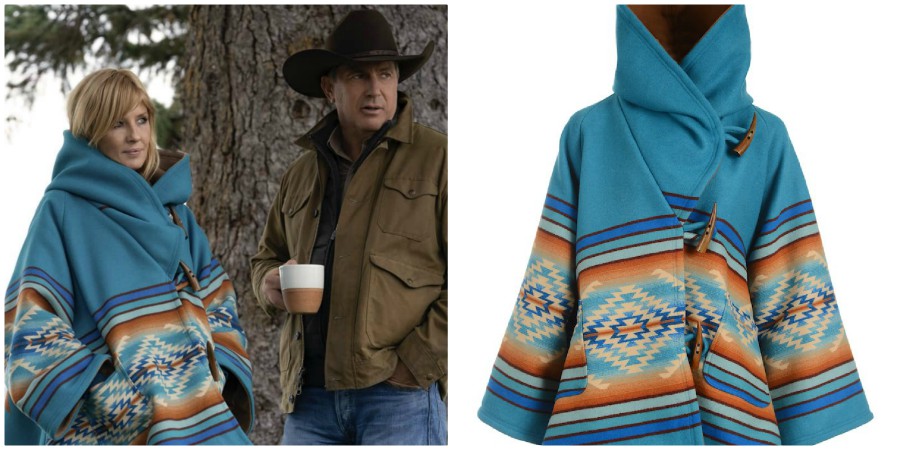 Pagosa Spring Cloak
It's called the Pagosa Spring Cloak, it's a Lindsay Thornburg design, and you can find it HERE.  I'll continue to update. I'm still looking for that amazing square turquoise ring if anyone finds it, let me know! You can also get that Pendleton look in other stuff from clothes to blankets to bags.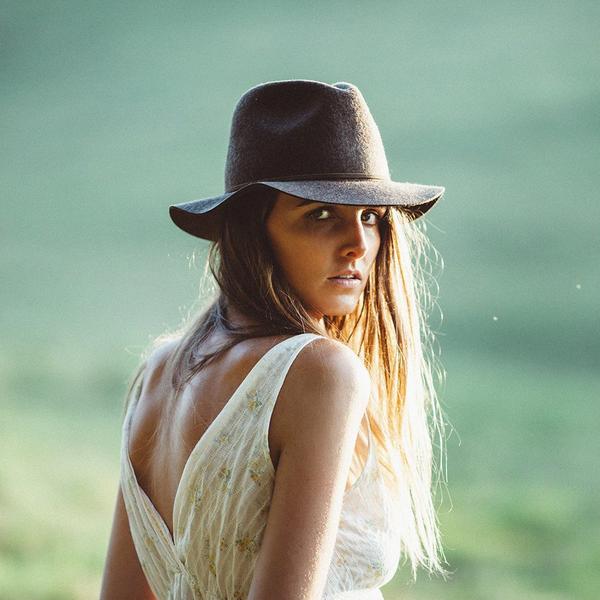 Conner Rockaway Beach Hat
Check out this Conner Hats Rockaway Beach Hat. It is so Yellowstone. It's light weight, adjustable, crushable, and perfect for travel. It comes in different colors but I love the soothing heather gray, and the style is versatile and will match with different looks. And it has a cool little silver dove charm on the hat band.

Ariat Anthem Boot
Ariat's Anthem Boot is a work boot with reinforced toes, but it's also super cute. I love the newest version with a flame design that feels like Fall to me. These are so comfortable, true to size and will save your toes the next time a horse steps on your foot.
Ariat Regal Reversible Belt
If you want to add a subtle western vibe to your look, this Ariat Regal Belt is beautiful. The great thing about this apart from the style, is that it's two belts in one because it is reversible from black to brown. This makes it perfect for travel and at home by stretching your wardrobe options. The buckle is just the right size, not too chunky but substantial. It does not scream Western, but anyone that's equestrian minded would notice it's a horse shoe. Maybe it will bring some good luck too!

* Images 1, 2, 3, 8, 9 courtesy of Paramount Network and Yellowstone TV.
Like it? Pin it!