Need some inspiration for holiday cooking? This is the time of year when we're all getting ready to hunker down a little bit. The crisp air calls for spices in our food, and heartier meals like soups, pastas, and stews. As soon as the leaves start to change, I begin to get excited about pumpkin-everything, and cooking for the holidays, starting with Halloween and ending with New Years. I'm always on the lookout for new recipes and interesting ways to prepare food. I just got these cookbooks, so I haven't had time to try all the recipes I've dog-eared yet, but I wanted to get them out to you asap so you could plan fabulous menus for all the upcoming special occasions and just good old fashioned comfort food for cold rainy and snowy days. Here are three cookbooks for fall and winter cooking to try new things and recreate the famliar.
Half Baked Harvest
by Tieghan Gerard
I have been a fan of Tieghan's website for a while, and when the Half Baked Harvest Cookbook came out, I wasn't a bit surprised. I was thrilled to have a hard copy to hold in my hands and swoon over pictures. Her photos are spectacular and she has a contagiously positive vibe. She's probably one of the sweetest people on the internet, patiently replying to her comments and making sure people succeed with her recipes.
Last Christmas, I tried her festive White Christmas Mojitos, but they weren't working. I left a comment and right away she got back to me. I was using the wrong kind of coconut milk, but once I got it right, they were perfection! I will be making them again during the holidays this year.
Don't go to her website hungry. And don't open this book hungry either because the pictures will leave you ravenous. Tieghan has the ability to take normal, everyday food and turn it into a masterpiece. She's an artist with an impeccable and unique presentation.  But her directions are clear and she shows you step by step how to make magic of food. I'm vegetarian and have no problem converting non-veg recipes. I find her dishes to be perfect for fall and winter because they give me that cozy feeling. She's big on holidays and will have you wanting to make all kinds of holiday food.
The Home Cook: Recipes to Know by Heart
by Alex Guarnaschelli
The cooks in my family rarely ever used recipes or cookbooks, they knew all the recipes by heart, so I love the name of Alex Guarnaschelli's new cookbook.  I also love that there are so many familiar Italian dishes in The Home Cook because I do not yet know them by heart, so it's nice to have this as a reference. She's a celebrity chef from television, but this book is accessible and down to earth.
I'd consider this mostly comfort food. There are plenty of healthy recipes, but they are still comfort oriented, at least for me. This is one of those cookbooks that gets splattered pages that eventually fall out of because you've used it so much for everyday staples as well as special occasions.
Good Veg: Ebullient Vegetables, Global Flavors–a Modern Vegetarian Cookbook
by Alice Hart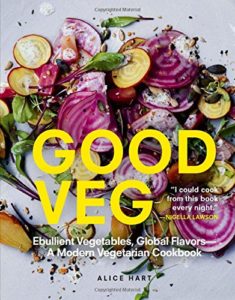 Good Veg by Alice Hart offers vegetarian recipes with a modern twist. It's a fresh take on food that provides the kind of inspiration I'm after when I'm pursuing a cookbook for ideas. Plan to procure supplies for the recipes though, the ones that caught my eye called for ingredients I didn't readily have in my globally inspired and well-stocked pantry. You're also going to need a mortar and pestle.
The focus is on vegetables, grains and fruit. I'm perpetually on the hunt for new ideas on vegetable prep because I eat a lot of vegetables every day. I made an improvised version of the Tumeric Soup which Alice likens to vegetarian Chicken Noodle. I'm always looking for interesting ways to incorporate tumeric in my meals and this was an exciting recipe for me. I'm also a fan of spice, which is in no shortage here. She even has some wonderful dessert options like Blood Orange and Olive Oil Cake with Almonds–doesn't that sound perfect for fall? What I love about this cookbook is that you can make meals that resemble something you would get if you were dining out.
Whole Bowls: Complete Gluten-Free and Vegetarian Meals to Power Your Day                             
by Allison Day

There is something so cozy and comforting about a meal in a bowl. Whole Bowls: Complete Gluten-Free and Vegetarian Meals to Power Your Day by Allison Day provides hearty, nutritious gluten free vegetarian one bowl recipes perfect for cold fall and winter days. 
Texture and color make these come alive and the photos will inspire you to make healthy yummy bowls of nourishing goodness. I like the layers of flavor and consistencies, and that most of these have accompanying sauces and dressings. The Macrobiotic Bowl with Kale Fried Rice, Tofu, and Miso Gravy is a great way to end an active autumn day, while a more refreshing Salad Bowl is nice for lunch. It's a year-round book with plenty of variety including bowl-meals for breakfast, desserts, salads and entrees. You can get an idea of the author's style on her website Yummy Beet which I just discovered myself.
First image from Half Baked Harvest.