When I downsized my car I worried about how hard it would be to go car camping. I went from a Volvo wagon to a tiny compact Toyota. But guess what? it's every bit as easy to go camping with the small car and here's why–I put a Yakima Rocket Box Pro 12 on the roof.
My Volvo had a rocket box too, but the Yakima Pro 12, which is wider and easier to access with the smaller car, seems to hold just as much stuff. I can get in there without having to stand on a stool like I did with the other one. With the hatchback and the Yakima Pro 12, we can take along all the camping luxuries we took before.
My tiny car will hold camp pads, sleeping bags, a big camp stove, cooking supplies, food, cooler–all of it. I recommend putting the lighter stuff in the rocket box, so you don't have a lot of weight to pull down, and put heavier stuff in the car.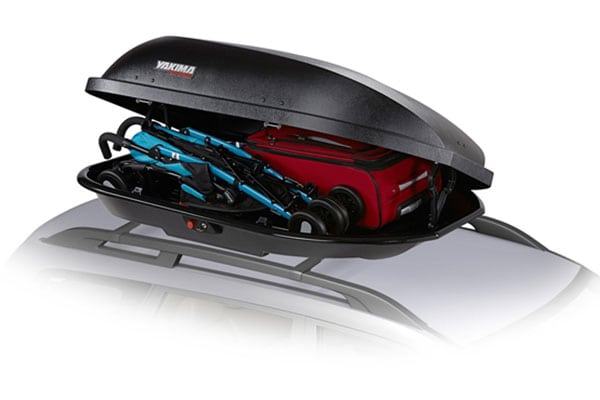 Installation was not difficult, but I did have a friend to help me. It took about an hour to get it just right, including installing the rack you need to attach the box to. I think you probably need two people for this, the box is bigger than it seems. It's a solid fit. No squeaking or moving, it feels completely secure on my car. It comes in a huge box, partially assembled. It's all very straight forward.
I keep a few things in the rocket box all the time, like hammocks and blanket. It is so handy to have it up there for spontaneous outings. When you go from a big vehicle to a small one, hauling stuff is a concern. The Yakima Rocket Box Pro 12 completely solves the problem of cargo space for me that space for me.
It's easy to set up, easy to use, and gives me a sense of freedom and adventure. I never cease to be amazed how much it holds–it's cavernous. I live in a rainy climate and everything stays nice and dry.