Happy Holidays Guys! I'm feeling the spirit more than ever as I cling to tradition for dear life. Know what I mean? I'm so excited for Christmas and all the familiar smells, twinkling lights, and Christmas movies. This year my gift guide reflects a few things appropriate for 2020. COMFORT & SELF CARE: a little bit of luxury and warmth to soothe, JOY: things that bring joy, FOODIE STUFF: because there has never been a better time to hone your food skills to restaurant quality, GEAR: for the upcoming apocalypse camping and outdoors, These are in no particular order, so make sure you get to the end, there's something in my 2020 Christmas Gift Guide for everyone!
*Disclosure: this post contains affiliate links, if you use one of these links to make a purchase at no extra cost to you, this helps keep my website running, thank you!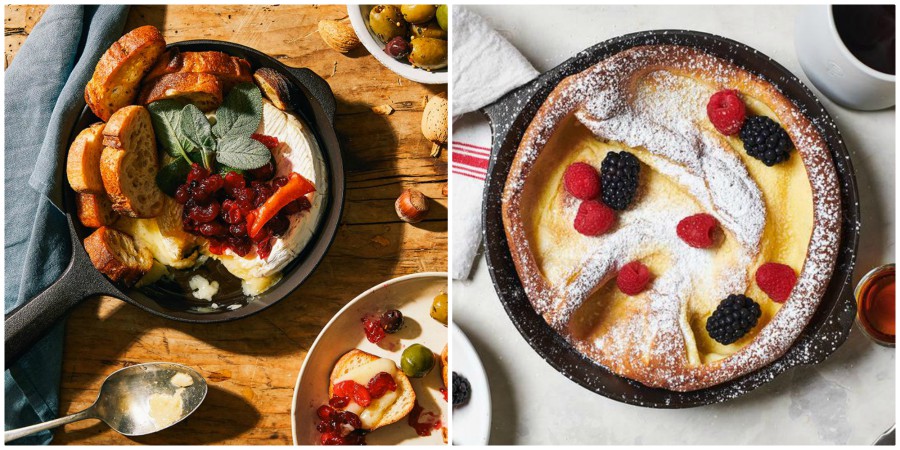 Field Skillets
I talk about Field Skillets all the time, I'm obsessed. My skillets are the most coveted thing in my kitchen, and I'd probably grab that number 8 on my way out if my house were on fire. They take on a personality over time, they feel like friends almost. Maybe it's because my grandmother cooked with skillets, but they bring comfort. And food tastes infinitely better cooked in cast iron.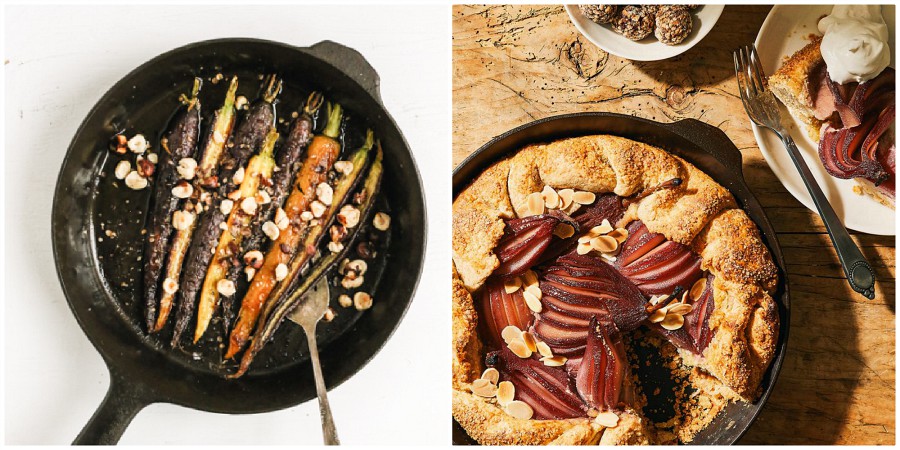 They are also supremely useful, non-toxic, and will last for generations. They are an investment. To get the kind of skillet your grandmother used, you need a machined skillet, the kind that has a smooth, non-stick ready to go surface straight out of the box. They cost more, but they are worth it. And they are a gift that will last the recipient their lifetime, and serve as a vessel to create unlimited good memories.
They can be passed down through generations, effectively becoming functional keepsakes. I was heartbroken that I didn't grab my grandmother's skillets until I discovered these. This year I'm experimenting with the number 10 and the number 4. The 10 is good for the holidays when you are preparing food for more people and the 4 is awesome for individual sized servings and desserts. They make a beautiful presentation on the table. You have to have at least one, but I warn you, you're going to want more after you cook in these.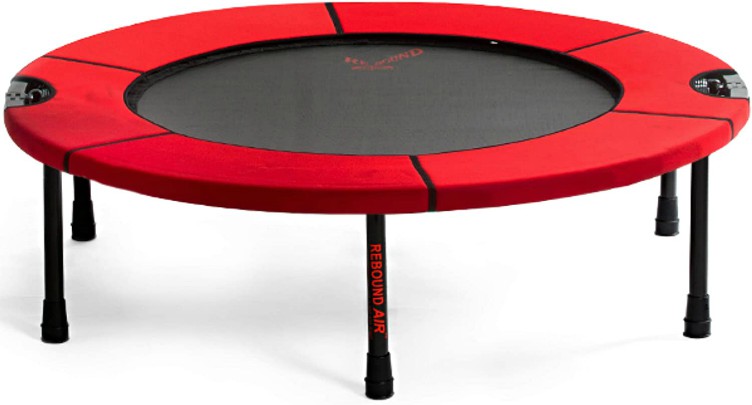 Reboundair Rebounder
So we're all going stir crazy, right? What better way to counteract our more sedentary than usual lives than to have something in the house that allows joyful movement? And what an awesome gift! Rebound Air's Rebounder is foldable! Isn't that awesome? So if you are in a small space, or if you really hate clutter like I do, you can just fold it up and put it in the closet or under your bed when not in use. It's genius. It even comes in a carry bag. This rebounder could not be more easy or pleasing to use. I smile the whole time I'm jumping, there is just something so fun about it. I think it would be awesome to set one up in front of the tree Santa-style with a big bow.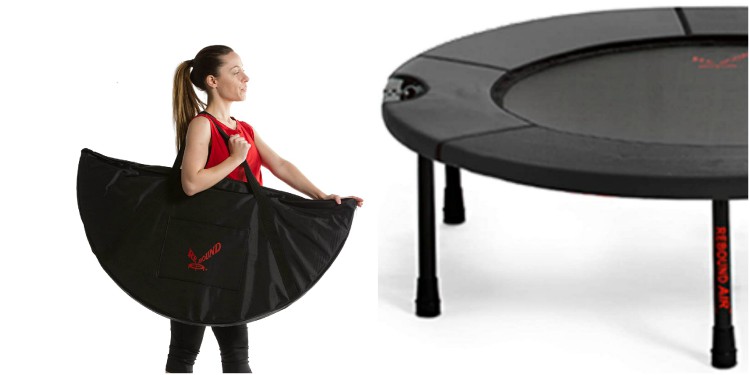 Rebounding is great for depression and anxiety and is there anyone who couldn't use a little boost right now? It helps to normalize blood pressure, increases oxygenation, improves digestion and elimination and even helps with sleep. People keep talking about the Covid 19 pounds they've gained on the lockdowns–here's a solution to that too, and something to counteract all that cooking (I hope you are doing a lot of yummy cooking, there's never been a better time to experiment with recipes). Get one with a sleek black cover or festive red and get one for yourself while you're at it, you'll love it!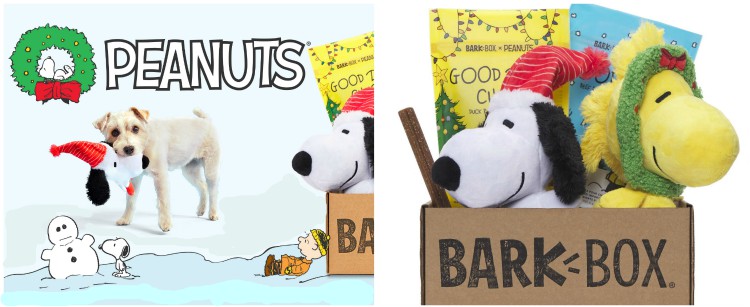 BarkBox Subscription
Have our dogs ever been more important to us than they have this year? I know mine helped me keep my balance throughout the insanity of 2020.It's the perfect year to subscribe to BarkBox for your fur babies who really deserve some treats. They come with plush toys and treats. Look at this crazy cute Christmas Peanuts themed BarkBox! It doesn't get cuter than this. A Charlie Brown Christmas is beloved at my house–and probably most everybody's house–so it feels extra comforting this year to see these sweet characters. BarkBox also makes a fabulous last minute gift for your doggie nieces and nephews! Subscribe HERE.

Juniper Ridge Christmas Essential Oil Gift Set
If you don't have a real Christmas tree, or even if you do but want that smell in every room, you need the Juniper Ridge Christmas Essential Oil Gift Set. You need one for you and more for gifts. These are high quality, wild crafted essential oils that really bring the smell of the Christmas Fir. They have a very real, earthy scent. You feel like you are in the woods the minute you smell this. I am really excited about taking that scent into the shower too, with a non-toxic body wash that leaves a faint, woodsy scent on your skin. This is a great gift for men too.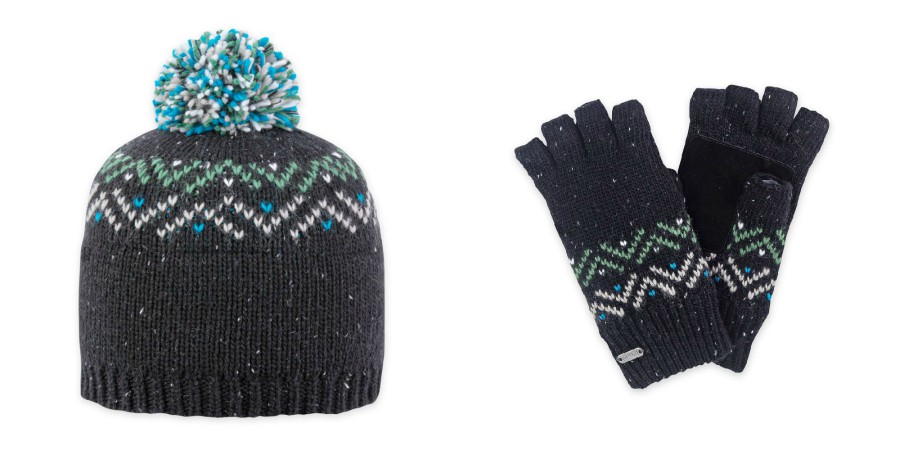 Pistil Visby Beanie and Wristlet
You can't go wrong with a hat and gloves set. The Visby Beanie and Wristlet Handwarmers are cute and useful. I love fingerless gloves for when it's not too cold and the hat is adorable with a super soft lining for your forehead. Pistil makes high quality accessories with a modern look, I'm new to the brand and have absolutely loved every single thing I've tried so far!.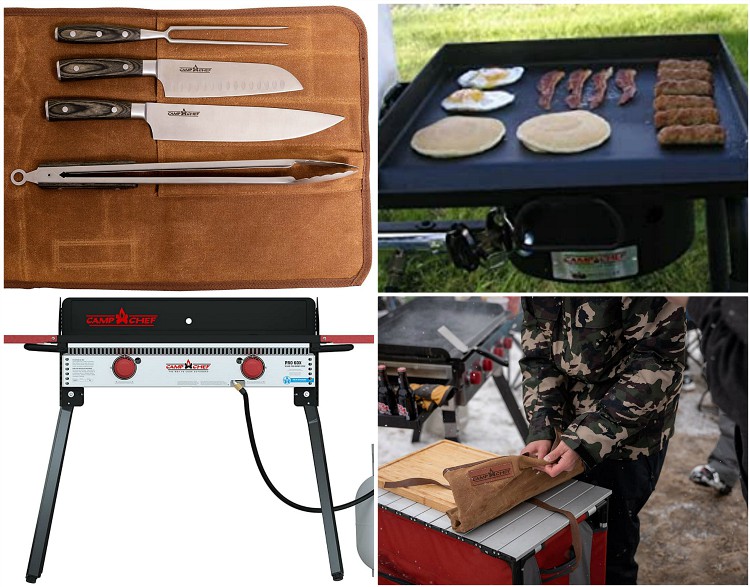 All Things Camp Chef
Regular readers know that I went absolutely ga-ga over the Camp Chef Pro 60X stove this summer. Read my full review HERE. If you have a foodie in your life that loves the outdoors, this will bring continual joy. You could put it in front of the Christmas tree all set up with a big red bow and make their whole year. Yes, it's portable and you can take it camping, but it works magnificently on your patio too. I'm madly in love with it and never stop getting excited about how good my food tastes. It's restaurant quality. Between the Pizza Oven, the BBQ Box and now the Griddle, there's nothing I can't make. And it always turns out amazing, I don't know how Camp Chef makes everything so fool proof and perfect, but they do. I've been using their products for the last five years on a regular basis and they are reliably awesome.
For the person who already has the stove, I recommend some accessories. The Griddle is a must (so is the Pizza Oven, see full review). The first time I used it I made eggs and they did not stick one bit. Neither did the pancakes. Food just tastes better cooked outside and it is really fun to cook on a griddle. The 4 Piece Carving Set comes in a leather roll which makes a great presentation and the knives are beautiful. This Panini Press turns your griddle or skillet on your stove into an instant press. The Magnetic Tool Holders make a great stocking stuffer and work like a charm. Those are just a few ideas, but I feel confident to say you can pretty much pick anything Camp Chef and it will be a winner.


Kelly Kettle Ultimate Scout Kit
For a more minimalist outdoor cooking experience, check out the Kelly Kettle Ultimate Scout Kit. I love this for the emergency kit because all you need for it to work is twigs. How have I only recently learned of Kelly Kettle? Do you guys know about this? It's an ingenious way to boil water quickly, which is awesome for when resources are scarce. I love that you don't need fuel and the non-toxic stainless steel won't leach anything bad into your food and water. You can get the Kelly Kettle by itself, or in this ultimate kit that includes everything you need to make and serve entire meals. This is a wonderful gift for campers, prepares, and scouts.


Acorn Slippers
You can never go wrong with high quality slippers. Check out these men's Romeo shearling slippers. The pictures don't do them justice, they are nicer in person. My hard-to-please teenage son loves them. They're super well made and cozy and have a rubber sole that will get you to the mailbox and back. For women, I'm loving the classic Mocs in this cute popcorn sherpa that goes with everything.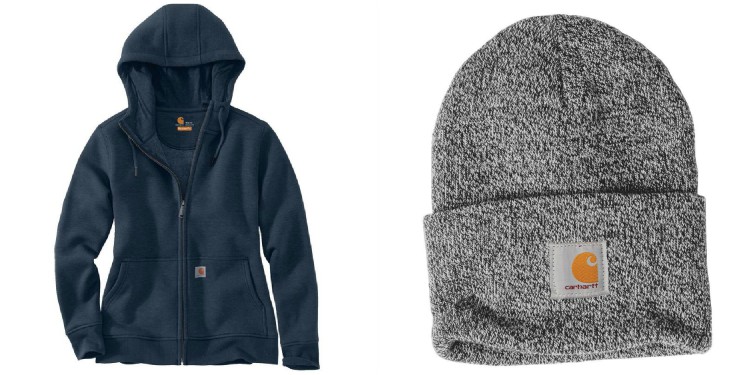 Carhartt Classics
Another thing you can never go wrong with is Carhartt. Their stuff lasts forever and is perfect for travel and home. I just recently became obsessed with Carhartt after getting inspired by the show Yellowstone (read my Yellowstone story HERE). That rancher look really appeals to me. Carhartt is also a favorite in the Pacific Northwest. Their clothes are subdued, high quality, yet affordable. A lot of their pieces are classics, like this cozy, winter weight Clarksburg Hoodie. It is so soft and comfortable, I kind of want one in several colors. A Carhartt Hoodie is a great gift for men and women, and it's one of those wardrobe pieces you can never have too much of. Same with this classic Watchman Beanie. They come in a million colors and add both practicality and style to your look. Put the hoodie under the tree and the hat in a stocking and voila! You have gifts guaranteed to please.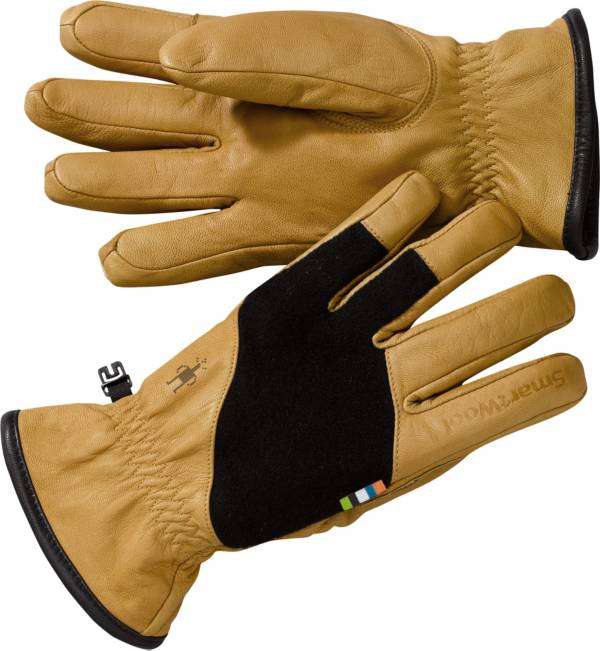 Smartwool Unixes Ridgeway Gloves
While we're on the subject of rancher looks, these Smartwool Ridgeway Gloves have that rancher, wood chopping vibe but they're awesome for winter activities like skiing and snowboarding, shoveling snow, and winter driving. Made with leather and wool, they come in men's and women's sizing.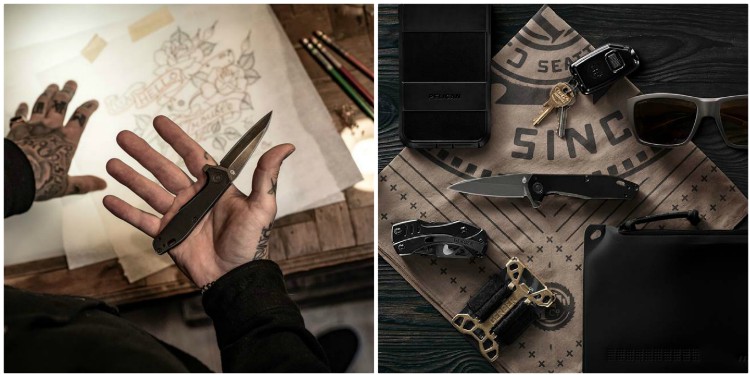 Gerber Fastball Knife
Gerber's new Fastball Knife is an excellent every day carry knife. It's clean and sleek and simple. People are calling it one of Gerber's best knife ever. It has an aircraft grade aluminum handle, and  A beautiful knife makes a great gift, it's great for outdoorsy types, and people who like to be prepared, which is something that has seemingly gone mainstream these days. it comes in different colors, I'm partial to the matte black.


Simple Human Sensor Fold Mirror
This has got to be the coolest mirror ever made. At least in terms of practicality, though I also love the sleek look. Simple Human's Sensor Fold Mirror is awesome for travel because it folds up and has a travel case, but it's also wonderful for home use. It lights up with a tru-lux system that simulates natural sunlight so you can see what you are doing and it has a 10x magnification. That sensor on the front makes the light come on. It has two adjustable height options and charges via USB with one charge lasting about five weeks. This is one of those surprise gifts that someone may never have seen before that they can get excited about.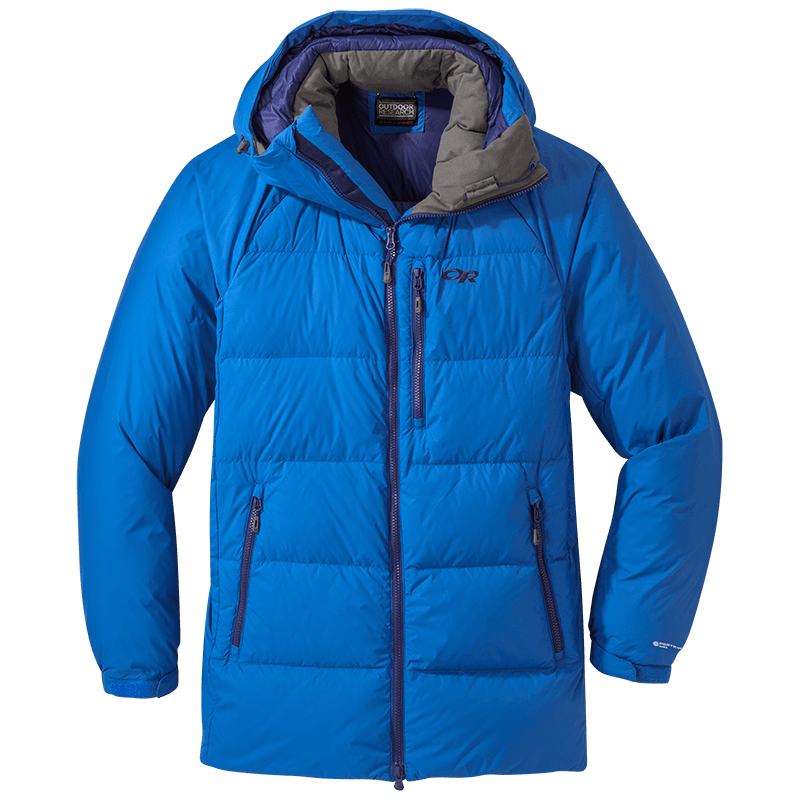 Men's Outdoor Research Super Alpine Down Parka
I'm a big fan of Outdoor Research and love pretty much everything they make. This Super Alpine Down Parka has to be the nicest coat I've ever seen from them. It screams coziness and quality. A lofty 800 down fill and an extra long length will keep him toasty all winter. I love the clean lines and simplicity of this jacket. It's a flattering, clean look–just perfection!

Darn Tough Socks
In case you haven't noticed, Darn Tough Socks make it into most of my lists because they are just so darn awesome. And they are a necessity. A very luxurious one. Darn Tough replaces any socks that don't hold up, so if you give these as a gift, it's kind of a gift for life and they make them for men, women and kiddos. These are the only socks I wear for the most part and they are nearly indestructible. I love the Hiker Boot Full Cushion for warmth and comfort as well as the Hiker Boot Cushion. And for fun, it doesn't get any cuter than these Bear Town socks. Put them in stockings or the super adorable gift worthy box Darn Tough Ships their socks in.


BioLite BaseLantern
For your happy campers and friends that love color, the BioLite BaseLantern is fabulous! It charges via USB so you don't have to worry about batteries. What I love about this lantern is that you can make it shine in any color you want–isn't that cool? You can even program it for different moods and effects via the BioLite app for your phone. It's compact for the amount of light it gives off and makes a great addition to emergency kits and camping supplies.


Royal Robbins Travel Separates
Look at these sleek travel friendly clothes from Royal Robbins. They are so metropolitan while still being functional and outdoorsy. The new Switchform Waterproof Jacket doubles as a travel pillow and has an almost black tweed-like look. It's a flattering fit that is great looking in person. Organic fabrics are my favorite and this Kickback Square Neck is really nice for winter because it has a heavier weight to it than your average tee. That neckline is elegant and it's a top you can dress up or down. Finally, the Lucerne Ponte Slim Pant is another versatile, comfortable piece that will take you from trail to dinner. All three pieces come in different colors but I think they look so sleek and modern in black/charcoal.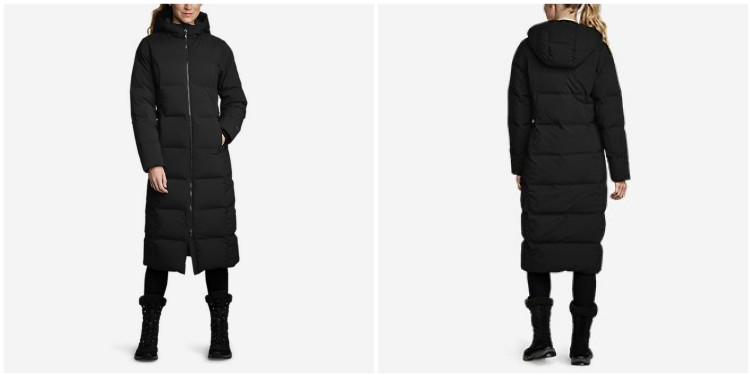 Eddie Bauer Glacier Peak Down Duffle Coat
Speaking of sleek and modern, Eddie Bauer has updated a classic. Brand new this season, the Glacier Peak Duffle Coat is long and cozy and rated to keep you warm when the temps go as low as -55. Not that I would know because anything below 30 degrees is plenty cold for me and where I am it rarely gets that cold. I still wear super warm winter coats because I get cold if I don't. I will say Eddie Bauer kept me warm the whole time I was in Iceland in below freezing weather, so I trust their ratings. The Glacier Peak is so pretty and contemporary with a 650 down fill and StormRepel to shed rain. I love the matte black finish that's super soft to the touch and the pockets are extra fleecy, soft and warm. It's elegant for a puffer coat and has a flattering cut.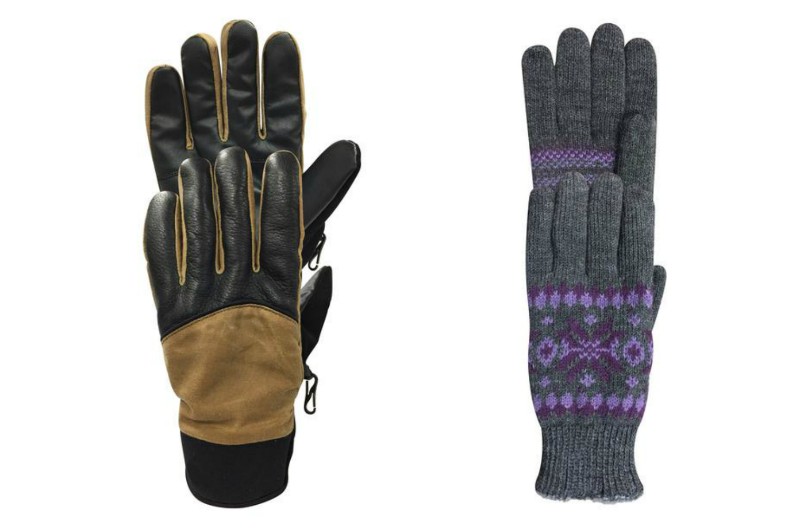 Manzalla Gloves
Gloves are a great gift for winter. Especially high quality gloves, they're almost a sure thing. I like these men's Rancher Gloves which are kind of on point for the rancher mood I've been in for the last couple of years. They're nice looking for daily wear but also have a work glove appeal. They also have touch tips for using electronics. For women, these cute heather gray Crystal Gloves with super plush fleece lining. I love the wintery nordic design. Note they are more muted in person and made for medium to large hands (I have small hands and the fingers are a little long, would probably fit a normal size hand fine).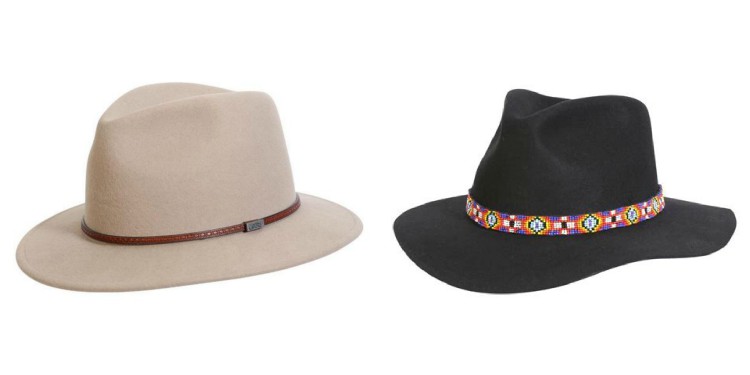 Conner Hats
Conner Hats are my favorite hats and would make a wonderful gift. Two of their newer designs are the Black Diamond which I think might refer in part to the diamond design on the leather band. It's gorgeous. This is the first hat I've had in a light color and I'm loving it. Neutral Putty goes with everything. The Freedom Boho hat has a very unique beaded band that is colorful and unique.
These 2.5-2.75 inch brims are perfect for me, they're not too big. Both hats are one size fits all, but I personally like the fit of the Black Diamond better. They will give you foam inserts that customize the fit even more if needed. These are the most comfortable hats ever and they are made from cruelty free cozy wool and organic cotton that provides warmth in the winter and shade in warm weather. Can't say enough good things about the quality here, amazed that they are so affordable and come in such a wide selection.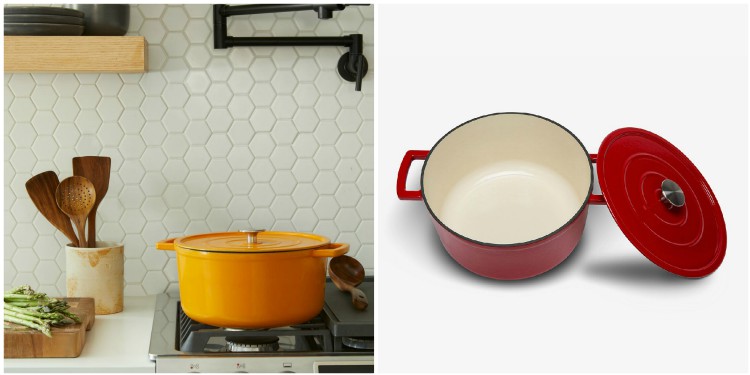 Italic Cast Iron Pot
We are giant fans of all types of cast iron and that includes dutch ovens. Especially when they are a great bargain. I've just discovered Italic, which is a way to get the high end stuff I love affordably. I couldn't care less about my stuff being stamped with brand names so the generic version is just fine with me. You have to check it out! This Zest Dutch Oven is made by the same company that makes Staub and a 6qt pot like this would cost around $250. Here you can get it for under 100. I can't tell the difference. We made fresh bread in this using a no-knead recipe and it was amazing and so easy!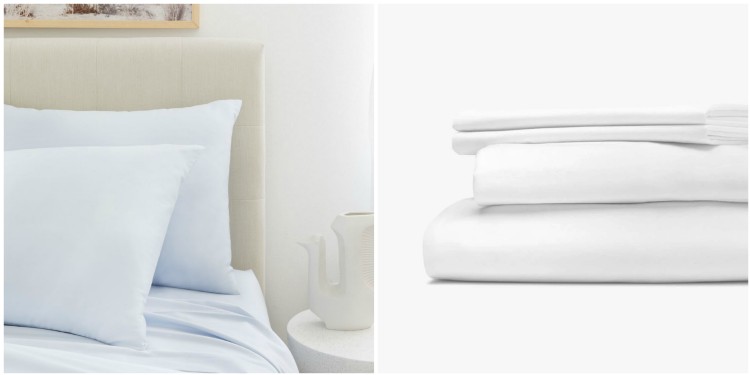 Four Seasons Sheet Set
I never sleep better than I do at the Four Seasons. I don't know what kind of magic they've got going on but it's pretty awesome. I know it's partially due to their wonderful sheets. Well guess what? You can get sheet sets made by the same company that makes Four Season Sheets at a steal. Once I was in Palm Beach and slept so well I wanted the whole entire set. Four Seasons does sell their bedding. It was like $700, but luckily they were out of Queen size! Sleep is so important to me and so rare it's priceless. Now I know where to find the same sheets for a fraction of the price, check out this set. I think these would be a thoughtful gift, especially for insomniacs.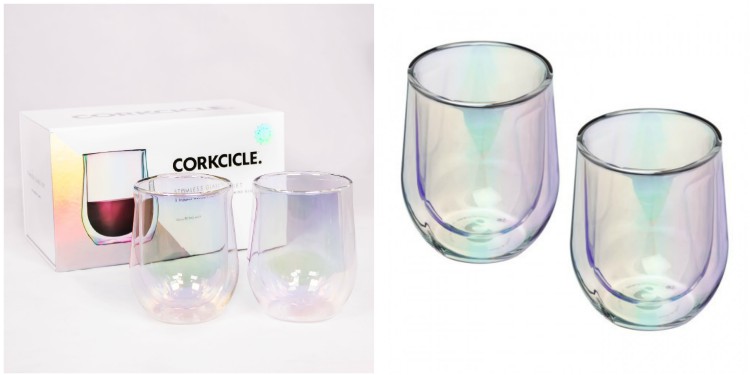 Corkcicle Prism Stemless Wine Glasses
Have you seen the Unicorn Magic Corkcicle stuff? It's iridescent. I love iridescent stuff, it's so magical and fascinating. These stemless wine glasses are the glass version of Unicorn Magic. They are special and festive and insulated with a double wall to keep your drinks cold or warm. They come in a high quality gift worthy box.

Breo Massagers
It's not like you can give people a gift card to the spa right now, so why not massagers? Then they can have a massage any time they want! Check out this Breo Hand Massager. It offers a rolling compression massage by filling with air then decreasing, increasing, etc. My hands get sore from typing all day and it's nice to put them in this massager for some relief.
The iSee4 Eye Massager is wonderful to relieve tired eyes and head aches. I get migraines and the pressure this applies to all the right places gives me relief. I love that it folds and is super portable and travel friendly. Take it on trips and to the office. Another thing I like about this massager is that the part that goes against your eyes is soft. Both massagers charge via USB.




Trigger Point Impact Massager
For athletic types and people needing deep tissue massage, the Trigger Point Impact Gun Massager allows you to focus on a specific trigger point or muscle and apply very strong vibration to loosen things up, increasing blood flow and hydrating muscle tissue. This also helps to speed post-workout recovery. It reminds me of the professional massagers they have at chiropractor offices. It has a lot of power and it is very well made. When you have a specific area that is locked up or causing pain, this allows you to zero in very effectively. It even works great on the bottom of your feet.




Gregory Resin Pack
Gregory has been knocking it out of the park with their bags and packs. I'm loving the smaller sizes for daily life and can't wait to get them on the road when travel becomes more available. This new Resin Pack is small enough to grab and go for a hike, work, or other daily pursuits. I've never seen a grab handle on a daypack before and I'm loving it. The laptop compartment keeps your computer safe and there are other pockets for organization. Made of recycled plastic bottles, you can also feel good about its eco friendliness. If you prefer a duffel style, you have to check out the new super cool Supply Duffel which has a kevlar bottom and folds up into a small square to take along as a spare bag. Both come in different styles and colors.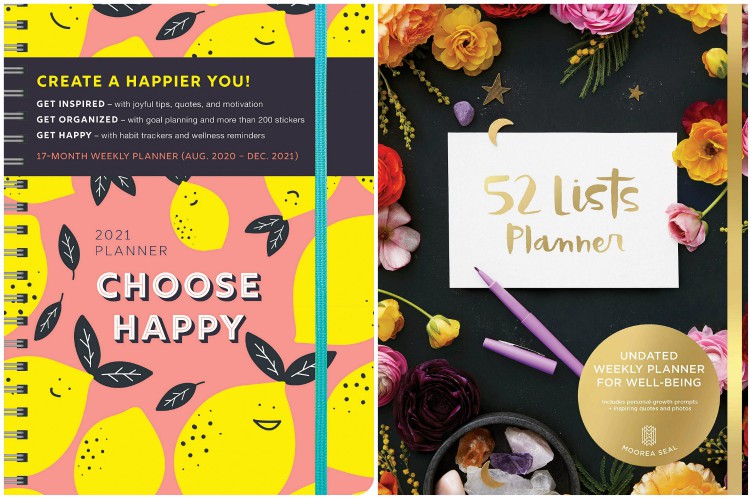 Inspiring 2021 Planners
Where have these planners been all my life? If you know someone who is a chronic goal setter and list maker, someone who likes to geek out with pen and paper–you have to get them an interactive planner that is meant to uplift and inspire. I've never seen such exciting and fun planners in my life. Choose Happy is fun, bright, and comes with stickers! You can get extra Instant Happy Planner Stickers for it too, how fun is that? Is it a little teenager-y? Yep. Do I care? Nope. I'm all over this. It's blatantly happy and cheery and I welcome it, I think most people would this year especially. It begins in August 2020, so you don't have to wait until January 1 to get started.
The 52 Lists Planner is more introspective, less cute more gorgeous, and does not have the dates included, so it's not year-specific which I think is kind of cool. There's more space for delving a little deeper. It also comes with fun stickers! Both of these planners help you live life more intentionally. They help you to be more mindful and get more excited about your goals and aspirations. They are optimistic, kind and meaningful.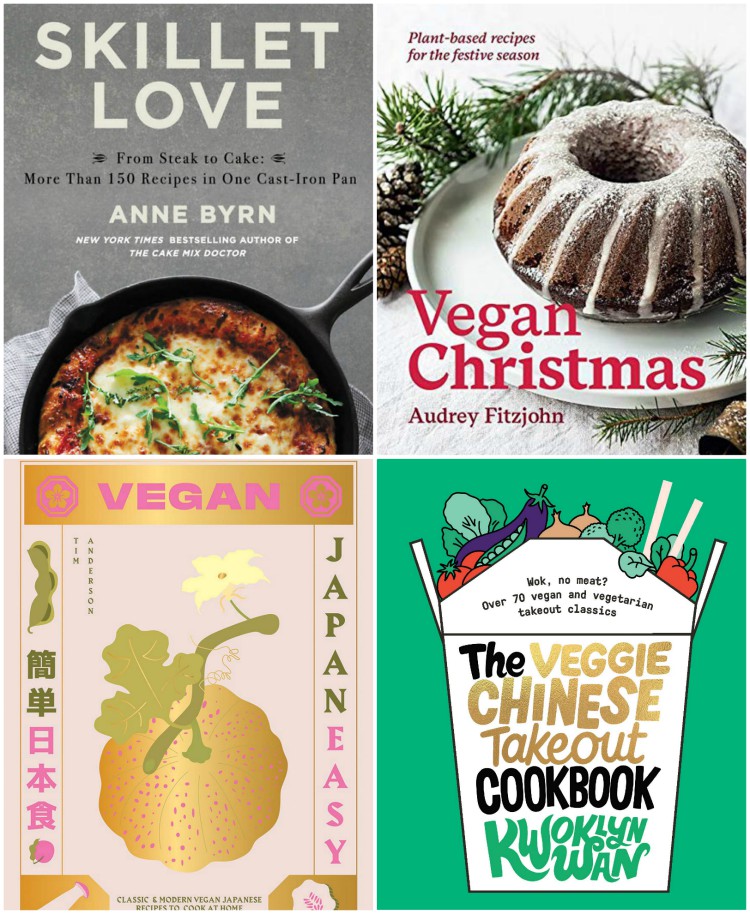 Books!
I love giving and getting books as gifts. Whatever your recipient likes, there's a book for it. Since a lot of us are staying home right now, we are more focused on inner reflection, honing our cooking skills, and making our homes more beautiful and comfortable. There are some wonderful books that offer support through all of that. Let's start with food.
Missing dining out? Turn your house into one by learning to make restaurant quality food. Did you and your friend like to go out for Chinese? Give them Veggie Chinese Takeaway so they can make their own! Prefer Japanese? Look at this gorgeous book, Vegan Japaneasy. I can't get enough Asian food, but I usually just wing it–both of these books guide you through making the real thing.
For the holidays, a vegan specific cookbook which I don't see a whole lot of. If you have vegan loved ones, they might appreciate a Vegan Christmas themed cookbook. I have my eye on the Mushroom Wellington and Christmas Nut Cheese.
Skillet Love is all about one of my favorite kitchen items–cast iron skillets! You know I'm obsessed. This is the first skillet book I've found that really resonates with me (even though it's not vegetarian) and there are a ton of recipes I've already bookmarked. Give them this book with a Field Skillet and it will go down in Christmas history as one of their favorite gifts ever. I expect my copy of this book to become tattered with use, but looking at it new, it's almost a coffee table book.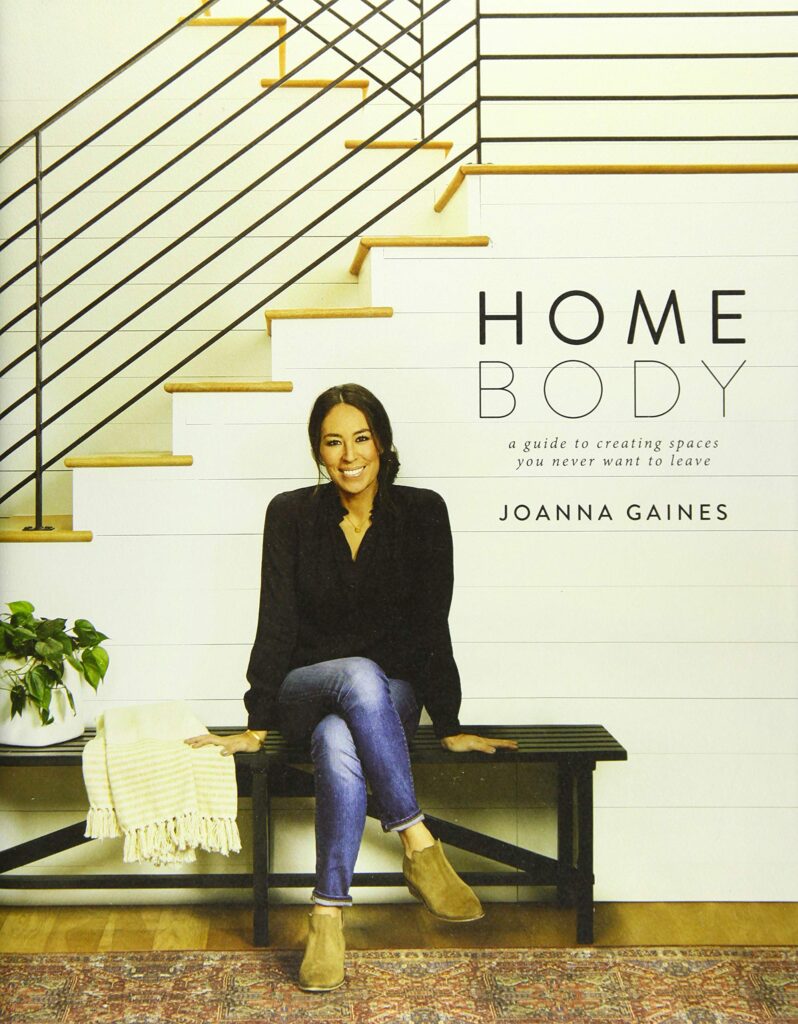 Speaking of coffee table books, Home Body by Joanna Gaines is the book for your HGTV fanatic. Who doesn't love Fixer Upper? It's a gorgeous book with design tips and ideas to make your home more beautiful and functional.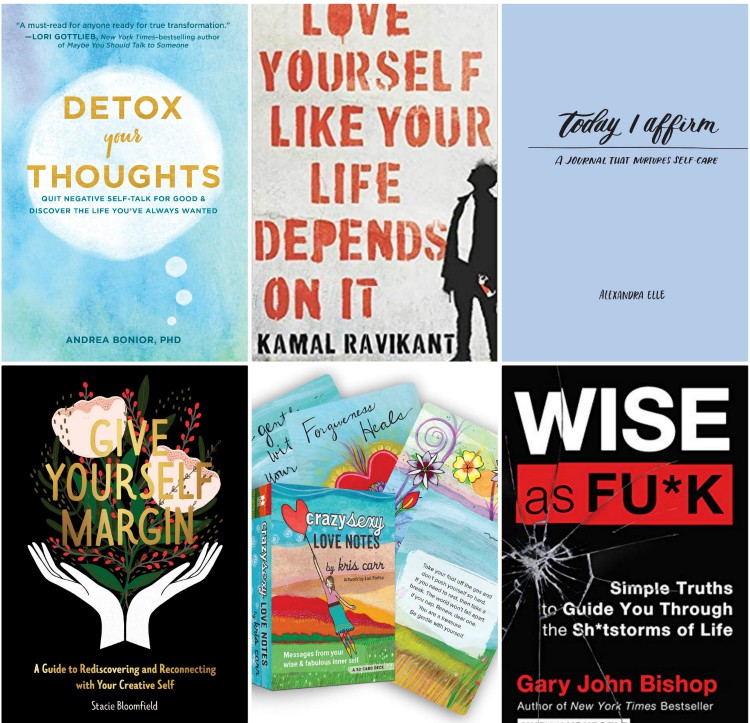 Books for Comfort
Detox Your Thoughts is such a great title, we are always so focused on detoxing our diets, especially after the holidays, but most of us could use some thought detox as well. Especially after the year we've just been through. While some are thriving and some are having a hard time, I don't think there is anyone who can't benefit from some positive thinking. And we benefit from other's positive thinking too.
Likewise for some self-love. Love Yourself Like Your Life Depends On It is an easy, quick read with depth. If we all follow the concepts in this book, we can emerge from 2020 and subsequent lockdowns like butterflies emerging from a chrysalis.
Today I Affirm: A Journal That Nurtures Self Care is a journal with prompts that will help you work through your experience and nurture self love. Particularly helpful right now. I like the idea of starting a new year with the intention for new growth in this direction.
The expression "Give yourself margin" comes from sewing. It means you allow enough excess fabric to account for mistakes. Give Yourself Margin, the book, is about allowing yourself the space and grace. It's meant to comfort and inspire with support and beautiful illustrations.

I love everything Kris Carr does, she's full of positivity that's infectious. Crazy Sexy Love Notes was meant to be a whole bunch of hugs in a box. And that's what they feel like too, on cards with lovely illustrations. Besides offering support, they also offer gentle reminders to take action towards personal growth.
For some tough love and humor, Wise As F*ck: Simple Truths To Guide You Through The Sh*tstorms of Life offers up some laugh out loud prose and wisdom to get us through the real shitstorm that's probably coming. Because it wasn't 2020. The fallout is on the way and we are all going to need strength, but it's nothing humans haven't been through before and nothing we can't handle again. I feel empowered just having it in my hand and I cling now more than ever to whatever humor I can find.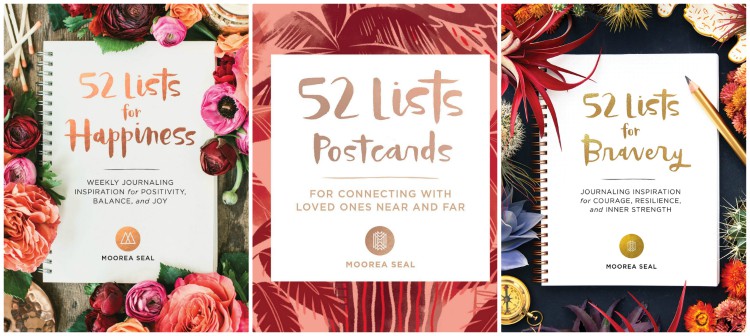 52 Lists
Do you know about Moorea Seal's 52 List series? I'm obsessed. Ever since I was a little kid I've made lists for entertainment, productivity and insight. For nerdy friends and family that like to make lists, this is like striking gold. I don't really know which one to recommend most because they are all awesome. The planner above is a necessity, and then maybe a book of lists for what that person is working on. 52 Lists for Happiness is something everyone can use right now to nurture positivity, as well as 52 Lists for Bravery. especially for 2021 because I think it's going to be a year we might need to be extra brave, but it will also offer more opportunity for growth. People willing to go inward will see more of that growth, and these books will nurture that. I also love the 52 Postcards which are mini lists of affection you send as a postcard, what a cool idea! They all have gorgeous illustrations.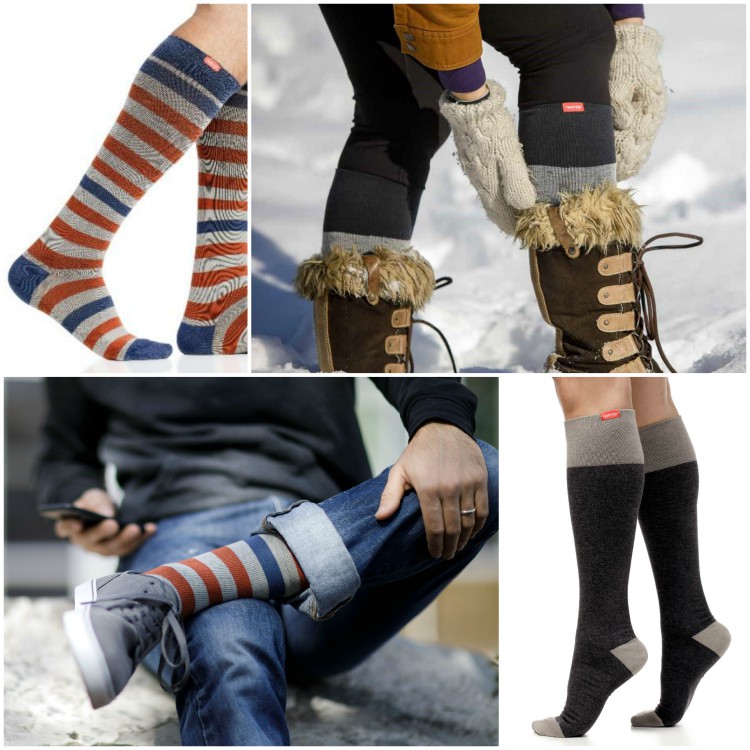 Vim&Vigr Compression Socks
Give your traveler some Vim&Vigr Compression Socks to increase their circulation during flights. Compression socks are also great for pregnant women,  you can learn more about the science behind compression sock benefits HERE. What I like about Vim&Vigr is that their socks are cute, they don't look like what you'd picture when you think "compression socks." Check out these neutral gray Heathered compression socks and Thick Stripe compression socks, aren't they fun? They are unisex and would make a great stocking stuffer.


Headsweats Christmas
Look at these fun Ugly Christmas Sweater accessories from Headsweats. They're made from recycled plastic bottles, so go ahead and give one to your eco minded multi-sport friend. They would make really cute stocking stuffers.


Instant Pot
Last but not least, I'm strongly recommending an Instantpot. Yep, I'm super late to this party but as a minimalist who values uncluttered counter space–and I mean 100% uncluttered–this thing is worth it. I have three spots for small appliances on my counter (my other counter is totally clear) and the instant pot gets a space. There are several models, we have the Duo Nova and I love it. I use it almost every day. I thought it was a gimmick and it would just be another thing to occupy space unjustifiably. But something I saw on YouTube (Hi HighCarbHannah!) convinced me I needed to try it. Wow! Perfect soup, perfect potatoes, perfect steamed veggies, perfect everything! And lightening fast. I wish someone had given one to me when I didn't know about them! Oh, and I got some killer accessories like a glass lid, steamer basket, spare inner bowl, and silicone lid so that I can just transfer my soup right to the fridge.

Like this Christmas Gift Guide? Pin it!