Have you ever ridden an e-bike? Believe it or not, I never have, though I've always wanted to try one. And I have never seen anything like the Swagtron SwagCycle Pro before, much less rode one. This thing is SO FUN. There really wasn't much of a learning curve, it's super intuitive. Both my 13 year old and myself were able to hop right on and go. There is a joyful, almost giddy feeling that goes along with riding the SwagCycle Pro and we are kind of obsessed with it right now.
When I first turned the throttle and realized how manageable the SwagCycle Pro is, how capable I was to handle it, I got pretty excited. Immediately I rode it over to a friends house where both she and her son did the same. One thing we all had in common–instant laughter. Neighbors and passersby were all fascinated by it and wanted to know what on earth it was.
I always say riding a bike makes me feel like a kid, but somehow this SwagCycle does so even more. And from all the people that I had test it out from ages 13-50, the consensus was the same. My son and I have been fighting over it since it arrived. For families, I think it might be a good idea to get these in pairs so you can enjoy them together instead of having to take turns.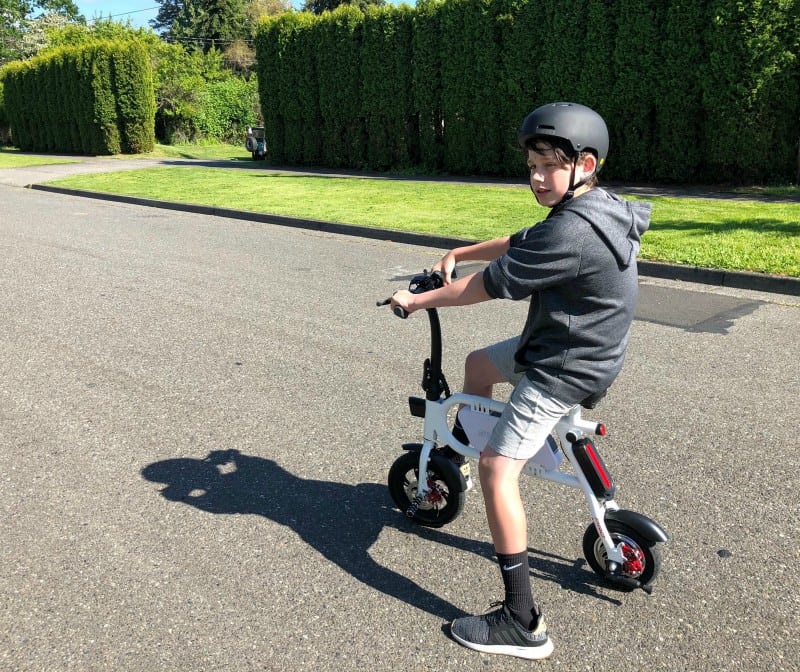 Getting it set up and running could not be easier. It comes out of the box with only the foot pegs and saddle to attach, and you fold up the neck, and adjust your handle bars. That took all of 10 minutes. The plug to get power from your regular electrical outlet in your house is inside the main compartment. You plug it in, charge it up, and you're ready to go.
All the controls are super intuitive and simple–it powers on and shows you how much battery life it has with green indicator lights. It has a horn and there's a USB port for charging your phone. You get juice to go by twisting the handle grip-throttle, it's that easy.
I'm amazed how comfortable it is and how it fits my body so well since it's a one size fits all. I'm 5'5 and the seat is at the perfect height for me. My feet can touch the ground with ease and I feel in control.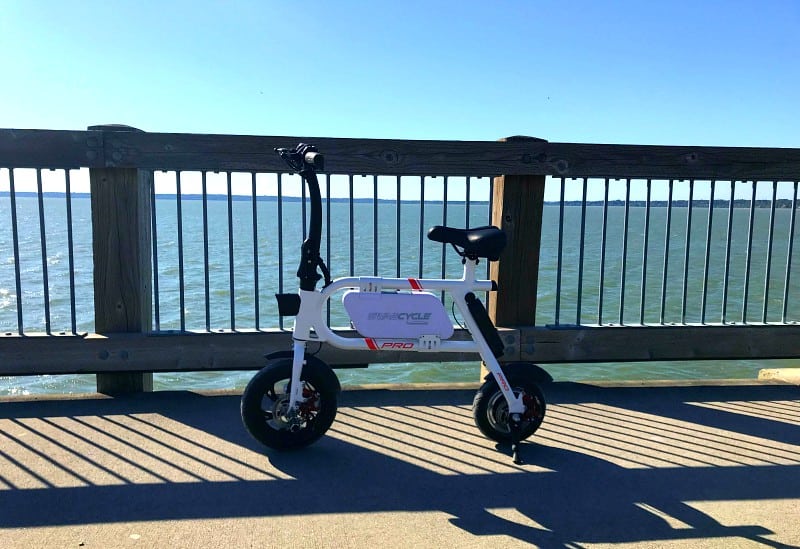 A 37V lithium-ion battery lets you travel up to 15.5 miles in one charge and it takes about five hours to get a full charge. There's a headlight and a tail light you control with an on-off switch. An app you download to your phone allows you to track your speed and record your time on the SwagCycle Pro.
The foldable design makes it very portable and gives you options, it's also light weight and easy to carry up stairs. It will easily fit in a trunk or hatchback, and it doesn't take up too much real estate in the house or on your porch. It's small enough to fit in a closet.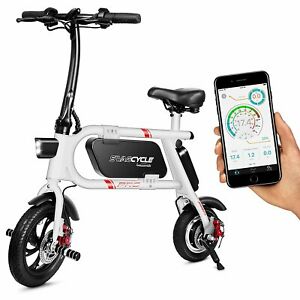 If you're out enjoying your day and you get too far away or don't feel like riding it home for whatever reason, you run into friends or something, you can put it in their trunk, or an Uber and head home easily. I wish they would make one with a big basket on the back so I could use it to get groceries. If you don't have to transport stuff, it makes a great short range commuter.
It comes in white and black–I'm telling you, maybe consider two so you can enjoy it with friends and family members. I feel like we are going to be seeing more and more of these on the streets as people find out about them. In the few days I've had it, four people I know became smitten with it and they all want one, and that is not counting my son's friends who are now eyeballing it.
This would be a great thing for RV-ers and boaters to have as land transportation in lieu of bicycles. It's an excellent, affordable option for commuting to work when you live a little too far to walk or bike. And, it's just one of the most fun, accessible things going on two wheels. Find the Swagtron SwagCycle Pro HERE*Disclosure: Affiliate links below. As an Amazon Associate I earn from qualifying purchases at no extra cost to you, if you purchase via one of these links, thank you, this helps keep my website running!