Summer packing is the best packing. Why? Because everything is light and you can take more stuff for more options. It's easier to look nice and have variety. Here are a few of my favorite things to pack this season.
Patagonia Island Hemp Beach Pants
These beach pants are perfect for summer. They're cool and loose, and extremely comfortable. I love them with a tank top, hoodie and flip flops for a versatile airplane friendly summer outfit, or even to wear over your swimsuit. Eco friendly hemp and organic cotton look and feel a lot like linen.
I get excited about hemp clothing and being able to wear organic cotton. I eat organic food, sleep on organic sheets, so why not wear organic clothing? Because it's not always super easy to find. If we keep buying it and demanding it, things will eventually change. Right now it still feels like a luxury.
O-Venture Silicone Key Ring & ID Case
Do you have an O-Venture key ring? If not, you are missing out. I love these key rings because I never ever lose my keys, and they allow me to be hands-free. This Blue You Away silicone key ring feels so good in your hand, it's velvety soft.
Wherever I go, people want to touch it, and they immediately want one too. The matching ID Case hooks on (and off) and is perfect for making sure you have your license and credit card at the pool and beach. That pretty blue is cooling, summery, and dreamy, and it stands out amongst your stuff.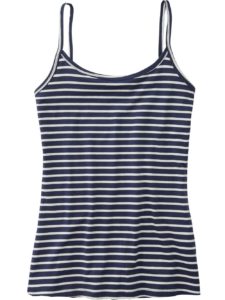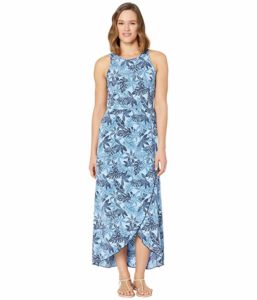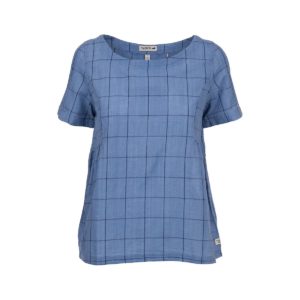 Toad&Co Mix and Match
You guys know I'm crazy about Toad&Co. I've been wearing this brand for about a decade and still have my original pieces from when I first discovered them and they were called Horny Toad. I'm wearing a HT tee shirt right now as I speak. I love these clothes because they are made from organic and/or eco friendly materials, they are extremely well made, comfortable and cute. And every season, they continue to surprise me by upping their game with better and better stuff. A few Toad&Co pieces in your carryon means comfort and versatility.
The Sunkissed Maxi Dress comes in beautiful prints and is feather light. It will add no bulk whatsoever to your bag and is perfect for hot climates. I love how feminine it makes me feel and how soft it is against my skin. It's very thin and cool, but still figure flattering with great lines. The Lean Layering Cami is a staple item, I want one in every color for wearing year round–solo in summer and as a layering piece the rest of the year. The stripes are fun for the season. And finally, my favorite thing is the Indigo Swing Top.  Feminine ruching and a swingy fit is cool for summer and just feels like the perfect thing to wear at the lake with jean shorts.
Dakine Cyclone Waterproof Waistpack 
Normally, I am not fan of the waist pack. But, if you're on the water doing stand up paddling, jet skiing, etc, it's a great way to keep your phone, wallet and necessities dry and with you.. It's really hard to find waterproof waist packs. Dakine's Cyclone Waist Pack is one of the few I've come across that is waterproof.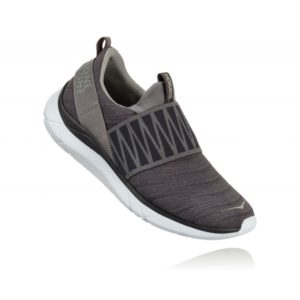 HOKA ONE ONE Hupana Slides
You're not going to find shoes more comfortable than Hoka One One. They are like walking on clouds, which means logging more miles in a new town. The Hupana Slides are a versatile shoe that hugs your feet and cushes your soles.
I'm used to this much shock absorption, and when I put on shoes that don't have it, I really notice the difference.  Not having to fool with laces is nice too. They slip on and off through airport security.
Corkcicle Tumbler
I love traveling with my own stainless steel tumbler so that I can make coffee and tea anywhere and drink out of healthy stainless. Most airports have water filling stations now, specifically for this purpose. Corkcicles are perfect for road trips, and they are among the most creative and colorful tumblers out there. My favorite so far is the 16 ounce classic tumbler because it fits my hand and holds plenty of water or tea.
Corkcicle's color pallet is vast. From happy sunshine yellow to ocean blue, you can pick the color that most reminds you of summer. It's also nice to color code when traveling with family and friends.
Royal Robbins Jammer II Pants
It's nice to travel with light weight nylon blend pants that can be washed in a hotel sink and be dry over night. The Royal Robbins Jammer II Capri pants fit the bill and come in several colors. I love capri pants in the summertime, especially fast drying pants that dry quickly.
If you are looking for a full length nylon pant, the Royal Robbins Spotless Traveler Pants are ultra light weight, soft, and comfortable.
Both pants dress up or down, are well made and will last through a ton of travel. The waist bands are flexible and allow for some culinary indulgence.*Disclosure: Affiliate links below. As an Amazon Associate I earn from qualifying purchases at no extra cost to you, if you purchase via one of these links, thank you, this helps keep my website running! 

Check out my must-have summer shoes HERE.
Like it? Pin it!