This year I am obsessed with summertime patio living and what better way to celebrate the season than to make some pretty cocktails, light up the fire pit or tiki torches, and chill out with friends? I was never really into cocktails until a couple of years ago. I don't particularly like the taste of most alcohol, and I often found them too sweet and too complicated. Bartenders at Four Seasons completely changed my mind. Specifially, it was the beach drinks at the Atlantic Bar & Grill in Palm Beach, and the Mojito Moderno at Capa that really did it.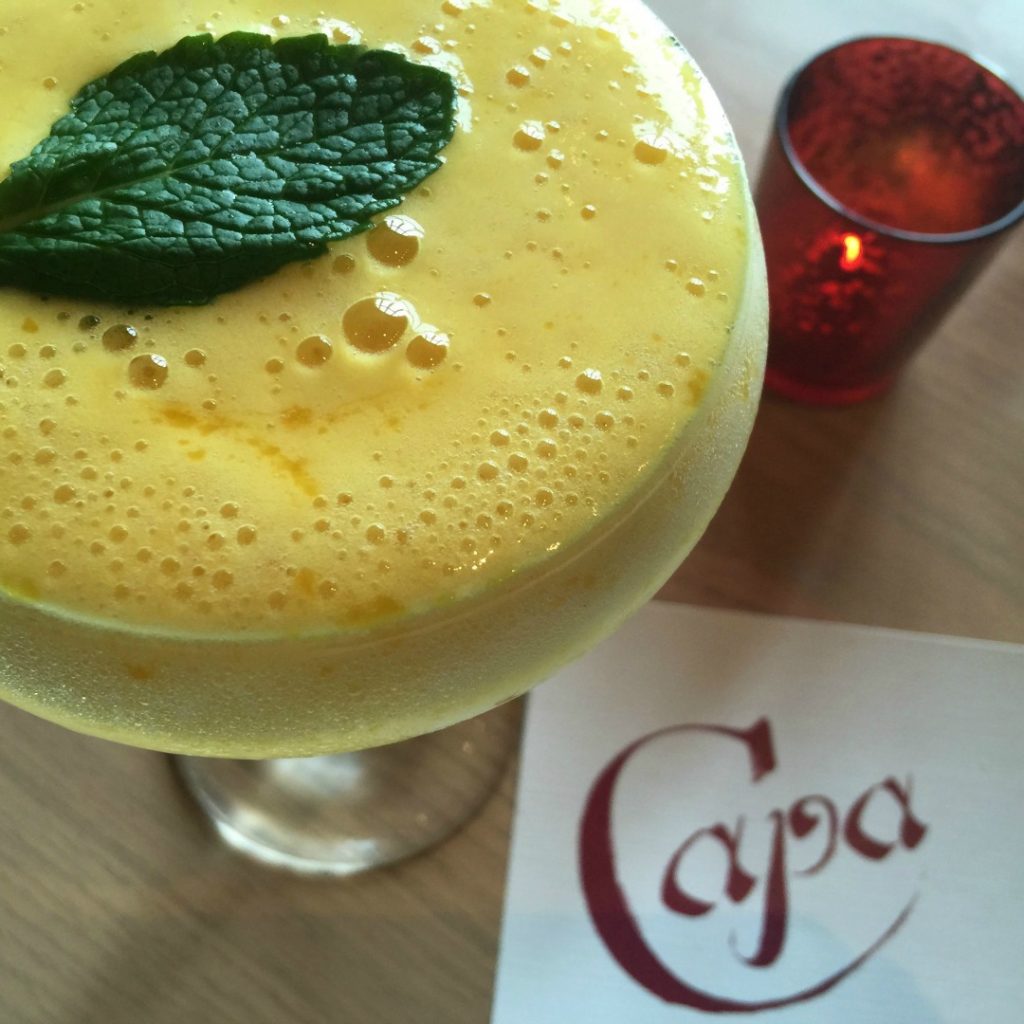 So now I'm teaching myself how to make some delicious drinks at home, sticking to tequila because I like the flavor and since I like mojitos, rum too. It may sound limited, but you can do a lot with those two, and you can substitute. I use only fresh, mostly organic ingredients, keeping my drinks as clean as possible. It's nice to be able to control the contents and the strength of the drink because I don't like them strong and that's another reason I enjoy making my own cocktails.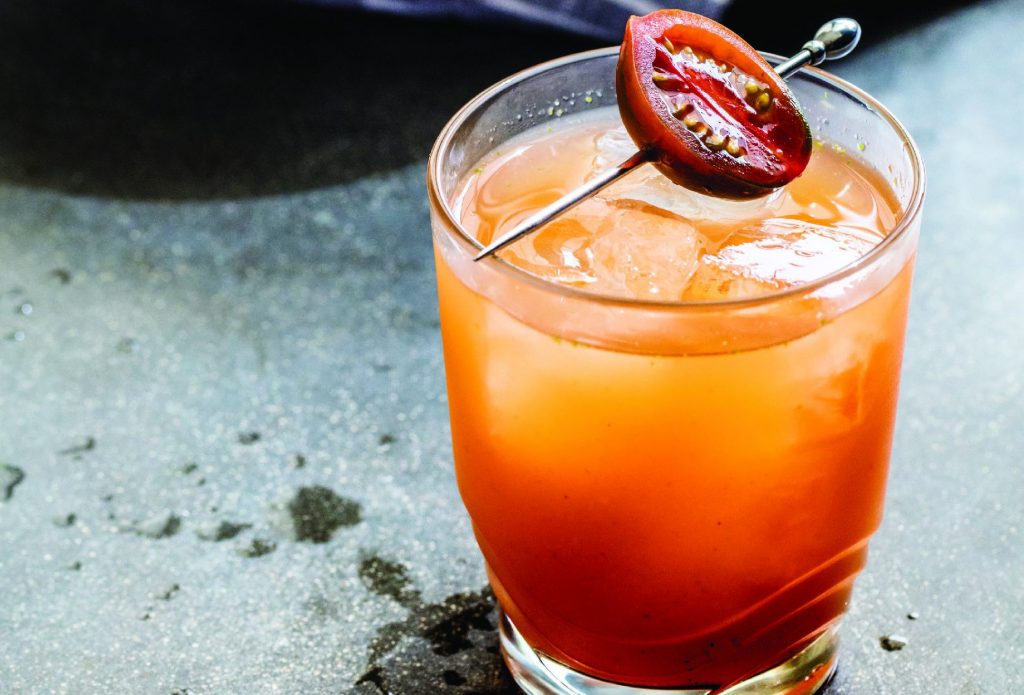 Luckily, craft cocktails are mainstream now and there are some great books to teach you how to create professional quality drinks at home. I love that mocktails are a thing now too, because I often want the fun drink, but I'm not in the mood for the spike, and my son can enjoy one with me as well.
❉ Books ❉

The One-Bottle Cocktail: More than 80 Recipes with Fresh Ingredients and a Single Spirit 
The One Bottle Cocktail by Maggie Hoffman is right up my alley because I prefer to drink cocktails with one type of alcohol. When I'm in a restaurant, and I order a drink, I almost always ask them to take out the minor liqueurs because it's just too much for me. Also, I feel like it's much easier on my body that way.
It's also a whole lot easier to keep stocked for cocktails without all those secondary, and often expensive liqueurs. I am much more likely to make a special drink if it isn't a project, and the recipes in this book are manageable and approachable. Because of my one-spirit preference, I almost always modify cocktail recipes, so it's exciting to me to find a whole book full of recipes that I don't need to alter and can taste as intended. Beautiful photographs on nearly every page inspire, and you never have to fool with bitters, orgeat, etc. If you are a minimalist or like to simplify your life, One Bottle Cocktail will give you those restaurant quality drinks without the hassle.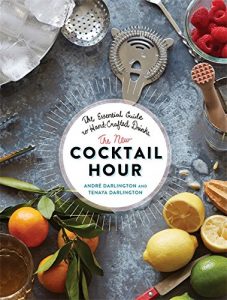 The New Cocktail Hour: The Essential Guide to Hand-Crafted Drinks
The New Cocktail Hour by brother and sister team André and Tenaya Darlington is a comprehensive book that belongs in your cocktail arsenal. At the beginning of each recipe, they tell you the flavor profile of the drink and the appropriate food pairings. This gives you ideas you might not have thought of and provides inspiration for the entire experience when you need more than a drink recipe. And that right there is what I like about this book, it's about more than mixing drinks, it's about creating an event, even if it's just a quick Thai takeout dinner with cocktails.
This book is conversational and fun to read and includes interesting historical facts and beautiful, farm to glass cocktails. Recipes are often simple and include mocktails which we make all the time for fun. Unfamiliar ingredients are explained so that a novice can pull off a professional looking beverage.
Booze & Vinyl: A Spirited Guide to Great Music and Mixed Drinks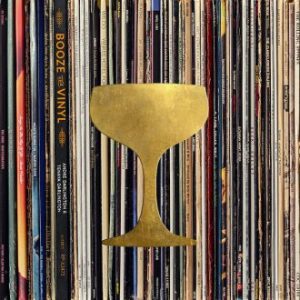 Booze & Vinyl: A Spirited Guide to Great Music and Mixed Drinks, also by the Darlingtons, is focused on pairing cocktails with music. And there's nothing quite like the sound of vinyl. This book brings back a lot of memories and I miss the uncomplicated days when people really did just sit around listening to records. 
It's a fun book, organized by mood and offering drink recipes to accompany 70 albums from the 30's to the 2000's. Each album has a Side A and Side B cocktail. A wide variety of music from Frank Sinatra to Bjork including "liner notes" with info about the artist and more party ideas. It's an original book about how to have a boozy listening party. A lot of the music (and drink) is not for me, but I took delight in this book with the fabulous illustrations and inspiration to create my own listening combos. I love a theme, I do it myself all the time, matching food, drink and music and geek out on a certain vibe or style. I don't have a turntable unfortunately, but digital works just fine to
The Craft Cocktail Party: Delicious Drinks for Every Occasion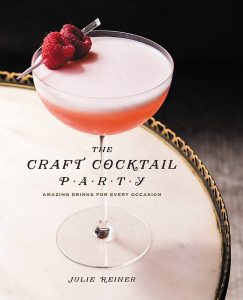 The Craft Cocktail Party: Delicious Drinks for Every Occasion by Julie Reiner seems like an instant classic. You're probably going to want a copy of this for your cocktail collection. I appreciate that it's organized by season, that makes it easy for me to find appropriate cocktails because I definitely eat and drink according to the season and what is fresh. I like light things in the summer, and heavier things in the winter and that's exactly what I find here.
All the recipes come with a story that makes for engaging reading. For summer, I really love the Tiki cocktail recipes and I can't wait to try the Thai Daiquiri with Lemongrass Syrup. This is the sort of inspiration I look for when I'm browsing recipes, and I feel like I am getting some great trade secrets here, from an author who is considered by Food & Wine to be one of the top 10 mixologists in the country.
❉ Barware ❉
One of the things that makes cocktails so fun for me is all the interesting glasses and barware. I love how you can set a mood with a tiki glass for instance, and I appreciate quality accoutrements and tools. After trying several brands, I have really fallen in love with Piña Barware.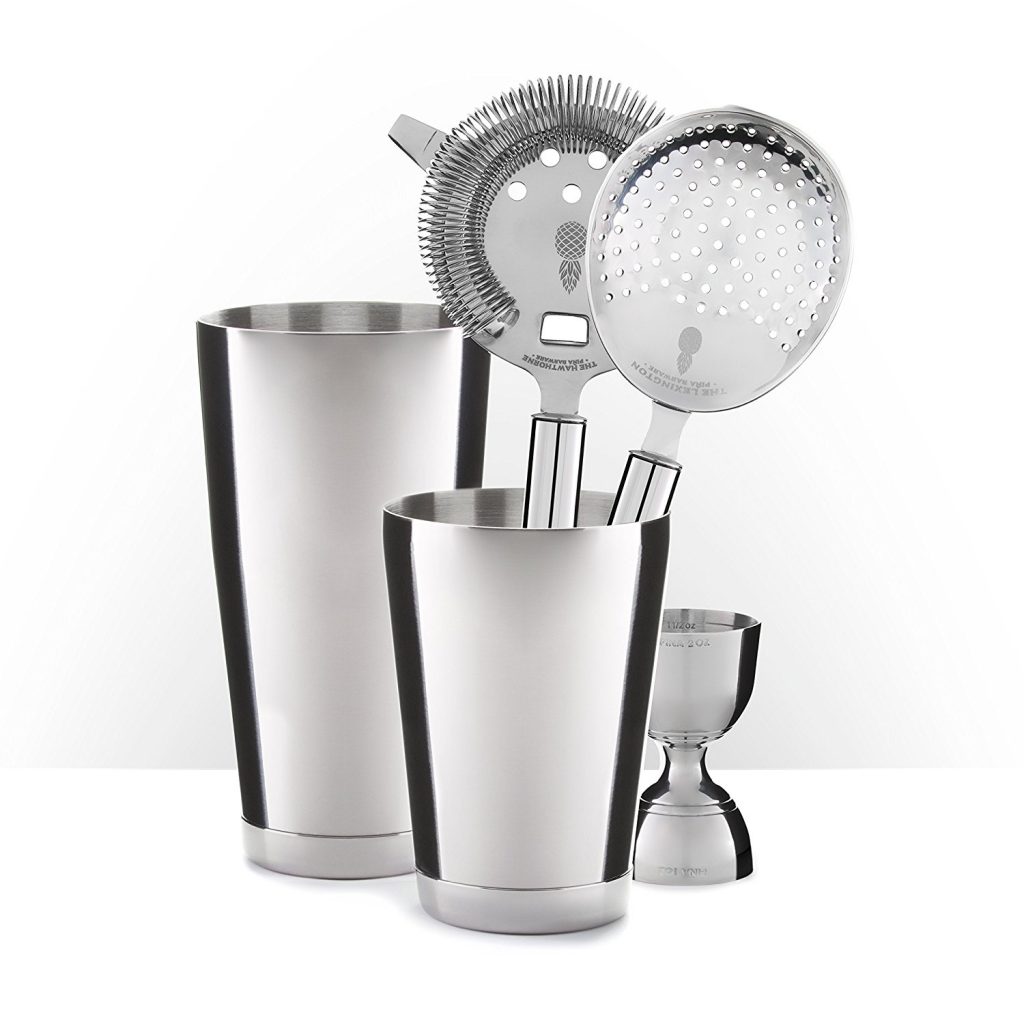 The Boston Shaker Set, aka Tin Set, takes cocktail preparation to a new level for me. This set is comprised of two heavy weight stainless steel shaker glasses, one 28 ounce and one 18 ounce. I like these so much better than the cobbler shaker style. The weight is just right, and the two shakers fit together perfectly, stay nice and sealed while you shake, and come apart with ease when you are done. It will make you feel like a pro to use these, and they are indeed made for professional bartenders.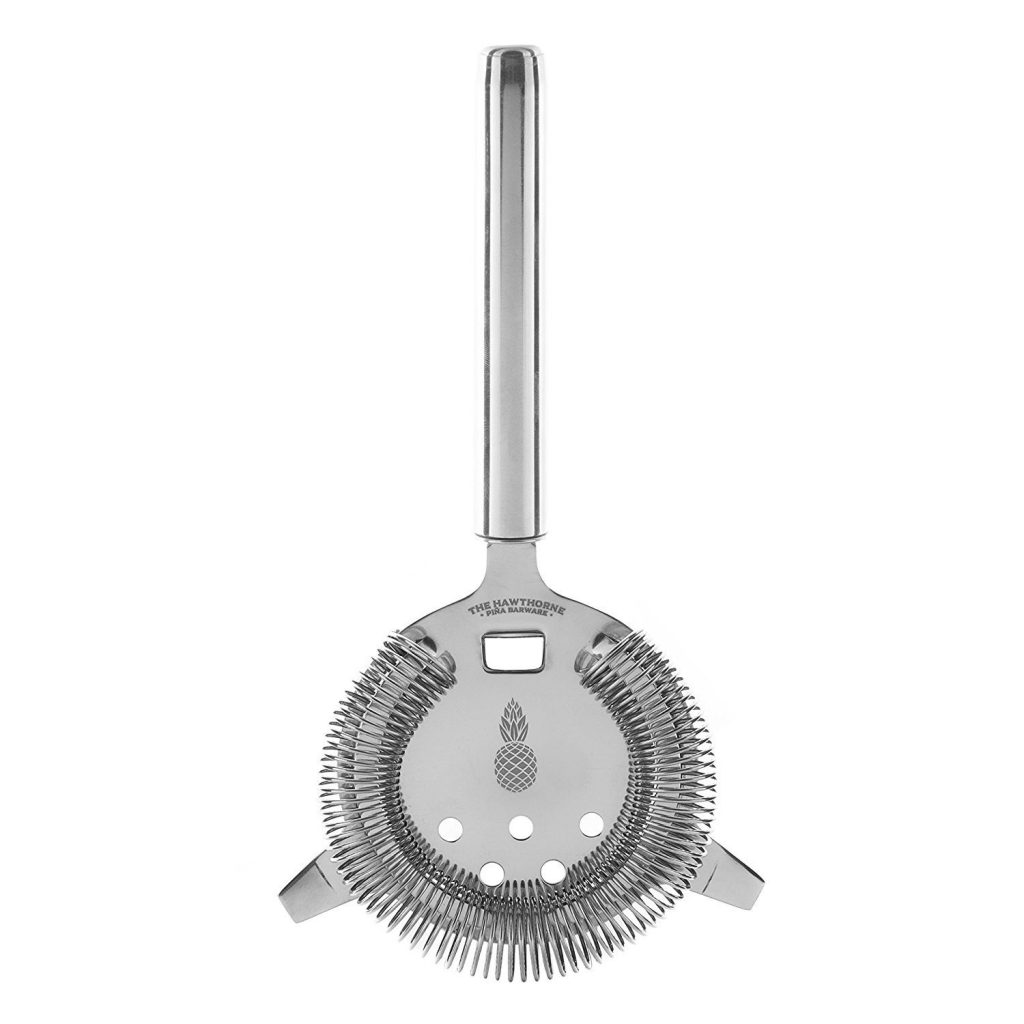 You need a strainer for this if you're making craft cocktails with herbs and fruits or want to keep ice chunks out of your drinks. Piña's Hawthorne Strainer clamps down on the shaker and gives you more control, keeping it from slipping while you pour your drink into the glass. This strainer is also a nice weight and feels wonderful in your hand.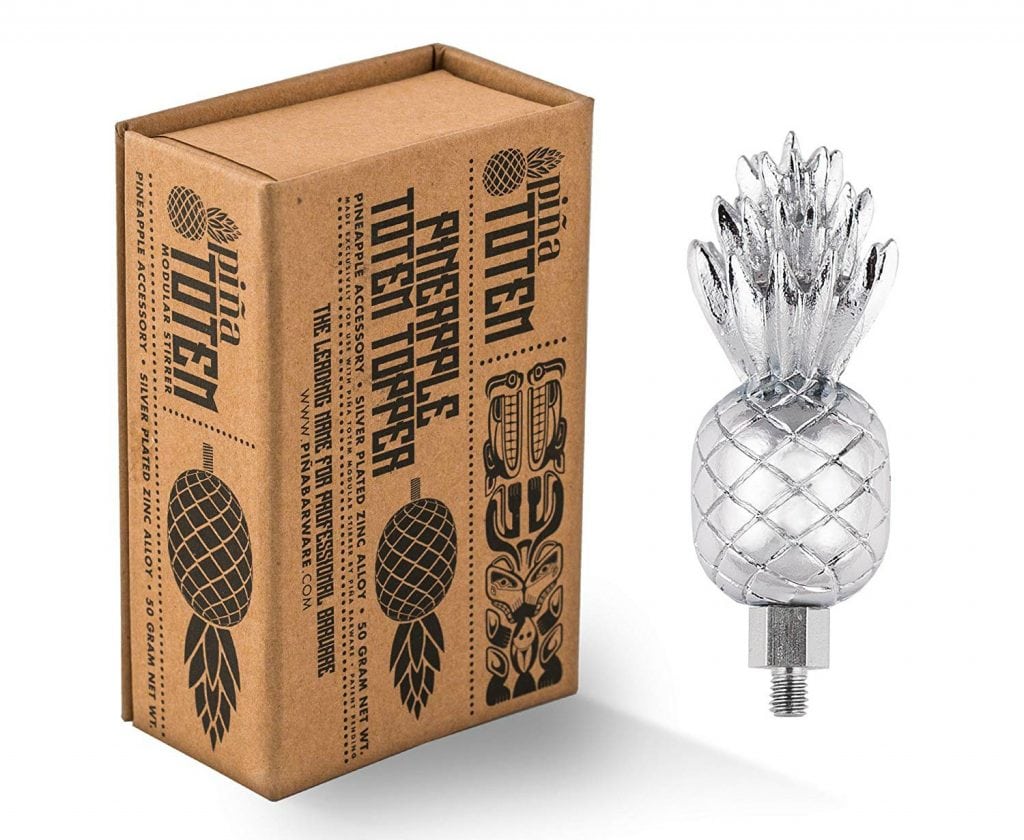 I love Piña's pineapple logo and how it is stamped on all of their stuff. Look at this Pineapple Totem Topper that screws on top of your cocktail stirrer. They have several options for toppers, allowing you to customize your stirrer in their unique modular system.
Your kitchen and bar tools should be as beautiful as they are functional and you should take great joy in using your bar tools and accoutrements. As somewhat of a minimalist, my personal philosophy is to have few things, but the things I do have are treasures. Piña's bar tools are indeed treasures and functional art that look beautiful in your home and feel great in your hands, making at home mixology extremely pleasurable.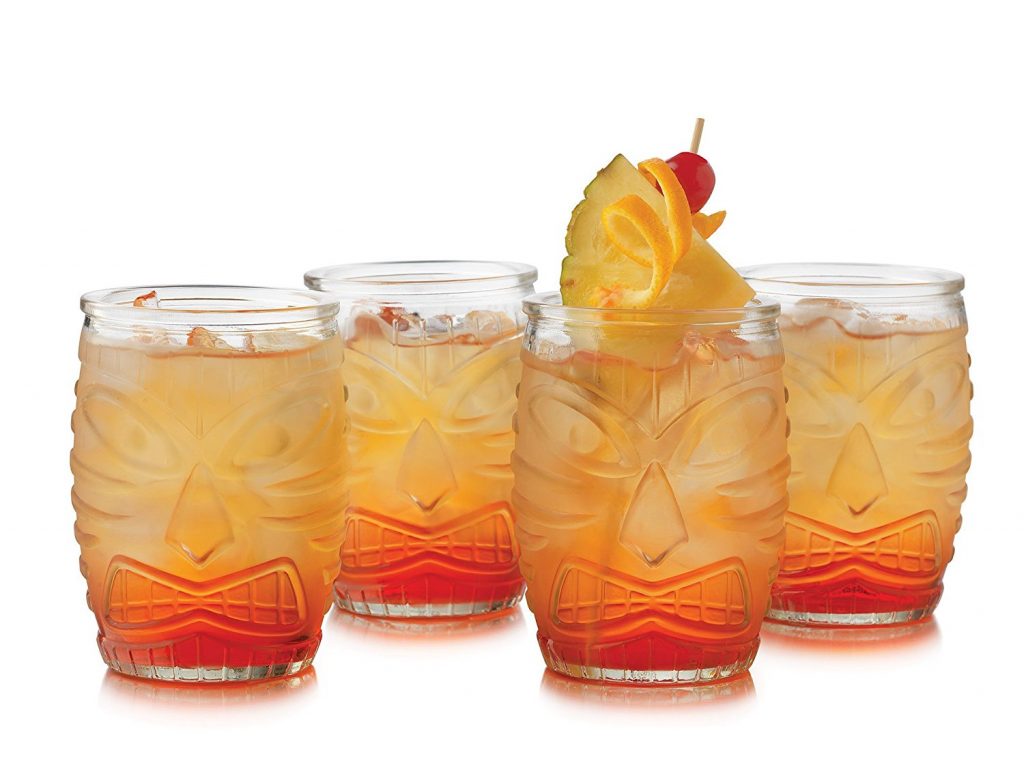 As a beverage aficionado, it's exciting to me to change the look of my drinks from healthy green juices to cocktails and even plain water, just by pouring it into a special glass. Look at these fabulous Tiki Glasses. Aren't they wonderful? Paired with a fruity Tiki cocktail and some Tiki torches, you've got instant luau vibes right at home. These are bigger in person than I imagined, they're made from durable, thick glass and I use them all the time. They immediately put a smile on my face and transport me just a little bit to Hawaii.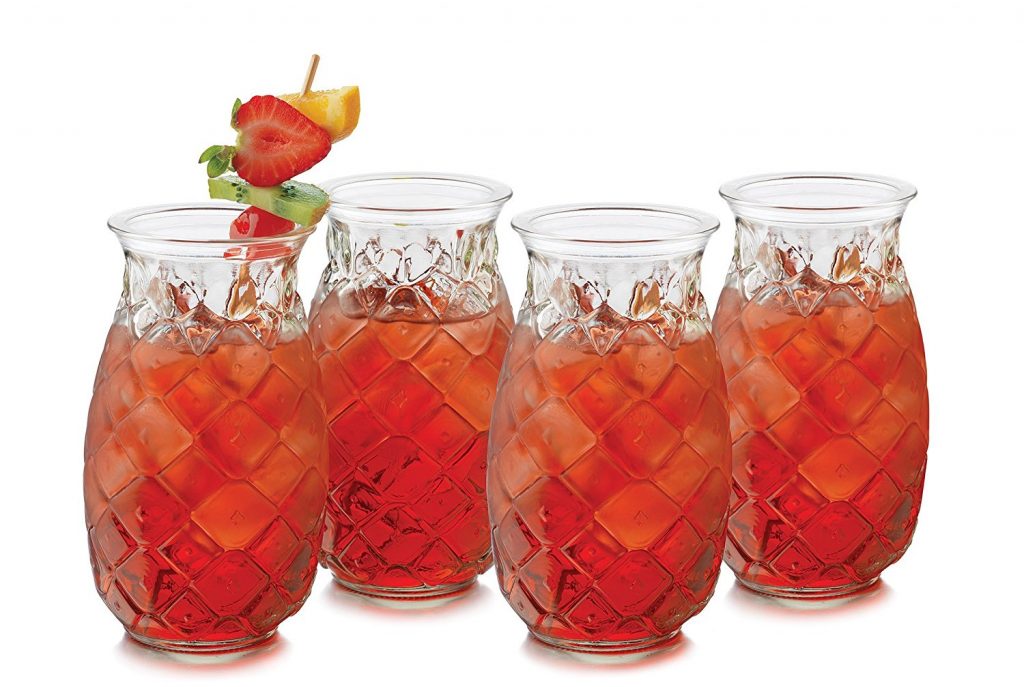 Another tropical look I love are these Modern Tiki Pineapple Glasses. These are great for giving you that pineapple look without having to grapple with a fresh pinapple. They are a great size, not too large, and feel nice in your hand. I've been making coladas with fresh pineapple, coconut milk (the real stuff, not the surgery canned version) and rum. Garnished with a chunk of pineapple and an umbrella and you've got a fantastic, refreshing summer drink. I also like these glasses for smoothies.
Like it? Pin it!