Do you have your New Years evening planned yet? We are making Good Luck Noodles and Margaritas to ring in 2018. Not everybody wants champagne, and happily award winning Suerte Tequila provides the festive vibe and deliciousness worthy of celebration. Suerte means "Luck" in Spanish, and this is perfect for me because margaritas are my favorite cocktail, and I'd much prefer that to bubbly.
Derived from 100% Blue Agave, Suerte is a high end, small batch artisan tequila that delivers. Their agave is hand-harvested, roasted in traditional brick ovens, crushed with a two ton stone tahona wheel, then filtered with a gravity fed system, all to keep the flavor of the agave in tact. This is a longer process than most tequilas go through, and not all tequilas are 100% agave. Less agave equates to more filler and less quality and purity.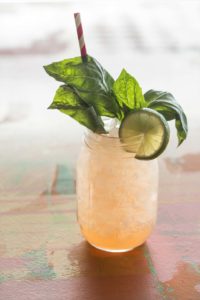 You can choose from three different tequilas (I can vouch for the first two, haven't tasted the Añejo yet). The Blanco rests in stainless steel barrels for two months before being bottled, allowing flavors to deepen with a fresh, citrusy, herbal profile. Suerte's Reposado is an amber tequila, with oak and butterscotch notes. The Reposado is aged in oak barrels for seven months. If you like an aged tequila, check out the Añejo. This one rests for two years to create an even more complex profile.
Look at the label, isn't that fabulous? What a wonderful gift a bottle of Suerte would make. Inside the body of the rabbit you'll find several symbols reflecting luck, prosperity and tequila production icons. What a great way to kick off the new year, right? With some extra good luck, good friends, and great food and drink.