Need a way to carry all your stuff when you're paddle boarding or kayaking? Check out the Seal Line Discovery Deck Dry Bag. This is a durable, compressible dry bag that comes in several sizes from 10L-50L.
This bag come in several different colors too, from pink to black to two different plaid options. I really like the orange plaid because I think it will stand out from other bags, not getting mixed up with someone else's gear. I have a habit of getting my stuff in black because it's so sleek and elegant, but when you have too much black stuff, you can get your items mixed up in your own gear. This way, the bag stands out from all the rest as my paddling bag.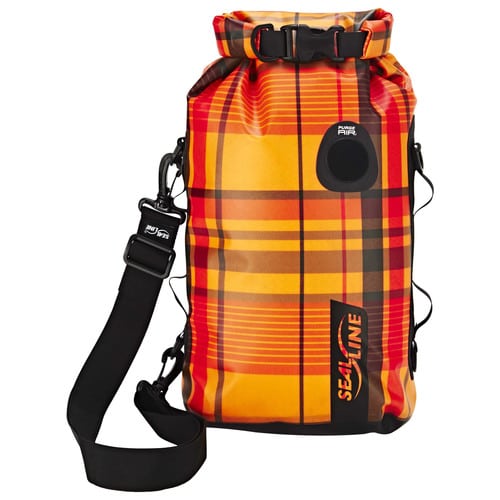 That valve you can see in the picture is the PurgeAir valve, made for compression. These are spacious bags. Even the 10L is plenty big enough for a day's worth of stuff I need at the lake. A hoodie, hat, sunscreen, snack, water bottle and even a pair of sweats to put on post-paddle. If that is the kind of thing you'll be using it for, I recommend the 10L or 15L, but for larger hauls, the bigger versions will hold some major gear. The bottom is shaped specifically for stability and to stack with other gear.
I have a feeling you're going to be seeing this baby in my instagram feed this summer because it's going to be my go-to paddling bag. Find the Seal Line Discovery Deck Dry Bag HERE.