It's so nice to have water right there at the ready when you need it. Hands free, no muss-no fuss. A system like this Platypus Tokul Hydration Pack XC 5.0 fits the bill for the minimalist. It has just enough storage for the essentials (keys, money, lip balm, phone, powerbar, a jacket, hat, sunglasses, etc) and is light enough not to impinge on your freedom of movement or weigh you down.
I am 5'5 and it's a comfortable fit for me. The Tokul is a great looking pack. It comes in three different colors but that royal blue with contrasting black is really sharp, with bright yellow accents. It has reflective points which will help you to be more visible as well as a loop for your blinkie. The RidgeAir back panel is a mesh with airflow that helps to keep you cool.
You can clip your helmet to the outside of the pack, or you can store it inside in the  stretchy helmet compartment. This is where I will store my extra layers too. The Platypus Tokul Hydration Pack is perfect for hikes, and for your day pack for travel. I had a similar pack with me in Peru where I did a ton of hiking and it served me well.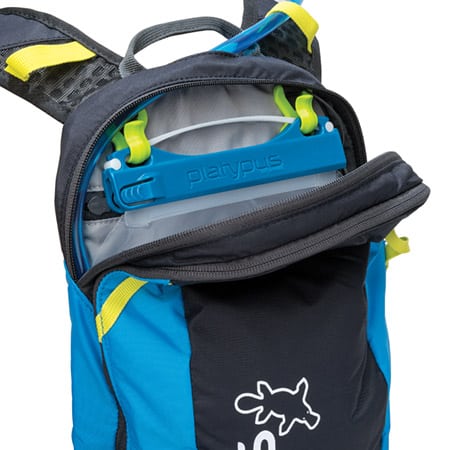 The bladder holds three liters of water, is super easy to access and fill, doesn't shift around one bit,  and you won't taste any plastic. A magnet keeps the bite valve handy and it just snaps back into place when you're done sipping. The only thing I don't love about it is that the waist strap is not removable. I fixed this by cinching it way down and out of my way. I tend to not use these unless I'm carrying a lot of weight, so we'll see over time if it grows on me. Overall, this is a beautiful, versatile pack that is so well made it will offer years of use. Find the Platypus Tokul Hydration Pack HERE.*Disclosure: Affiliate links below. As an Amazon Associate I earn from qualifying purchases at no extra cost to you, if you purchase via one of these links, thank you, this helps keep my website running!