When I saw the new Patagonia Houdini Jacket, I got really excited. I can't get enough of this gorgeous cobalt blue and the pattern is so fun and energizing I couldn't wait to put it on. Now I don't want to take it off. The fit is so comfortable and the jacket is so flattering I'm thrilled. Also, it's completely different from anything I have or have seen out there. The Houdini is going to be my go-to late spring-summer rain jacket, and one of my favorite things in my closet.
This jacket is perfect for your daypack because it packs down to nothing and then it's there when you need it. It's paper thin, but does the job, and the reflective details help you to be seen. It's great for hiking, bike riding, and for paddling, especially here in the Pacific Northwest. It's cute enough that it feels appropriate in non-outdoorsy situations, travel and everyday wear. That pattern is super flattering too.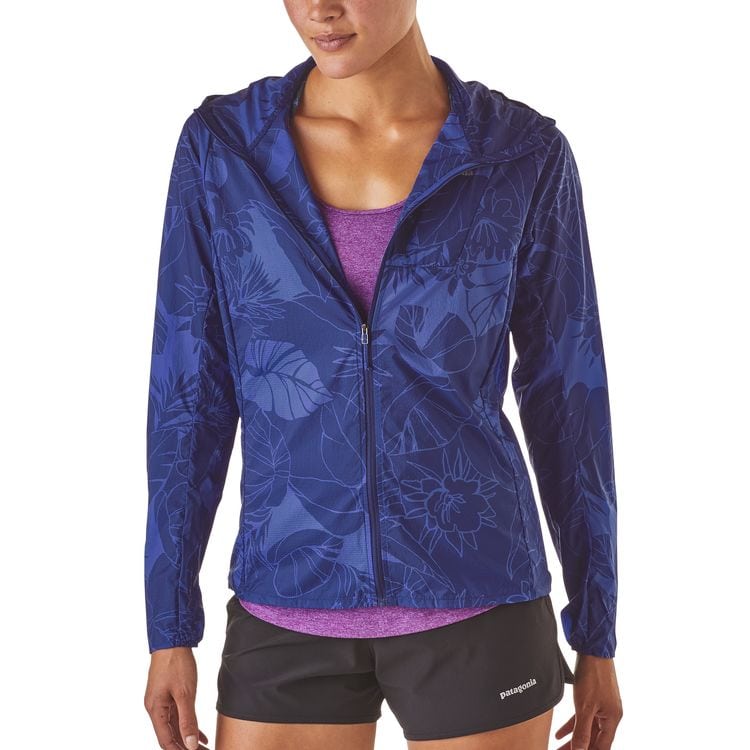 On me, this jacket fits totally different from what it looks like on the model in the pictures because I went up in size. On her it is shorter and more fitted. I sized up so that I could have a loose fit that goes past my bum. It makes the sleeves a tiny bit long, but I love having the extra room. If I want to wear it over my down vest (Patagonia also makes my favorite down vest right now) or other bulk I can. For reference, in most clothes I'm usually a 8-10, depending on the brand. In Patagonia, I'm mostly 10 or large or xl because I want a loose fit. When I plugged in my info on the Patagonia website (they have a new sizing tool that's pretty cool) and I chose "very loose" for the fit, it recommended Large. But I'm wearing XL and I really like it. This has backfired on me before though, it doesn't always work to size up, I've found myself swimming in things, but with the Houdini it worked great.
It does come in other colors, but this cobalt is divine and more vibrant in person. This color has always been mesmerizing to me. If you like high frequency blues and purples, you will love it. You know those flower varieties that are almost electric purple-blue? That's what this reminds me of. We need more of this color in the world. Find the Patagonia Houdini Jacket HERE.*Disclosure: Affiliate links below. As an Amazon Associate I earn from qualifying purchases at no extra cost to you, if you purchase via one of these links, thank you, this helps keep my website running!