Talk about charming. How picturesque and quaint to see a bicycle with a pretty bike basket. A real basket. Check out the Nantucket Madaket Creel Bike Basket. The design was inspired by an antique fishing creel and has a lid, which is not always easy to find with bike baskets. I love that people still use these and think of them as functional art. Obviously this isn't something you'd take on a trip involving air travel, but for road trips and day trips from home (as well as daily use) this is fabulous.
How about a picnic? A little artisan cheese, some Kalamata olives, a baguette… picnic bliss. It's these quaint little touches in life that add character to your world. The basket is compact, but large enough to hold a few groceries, a sweater, bike lock, keys, etc.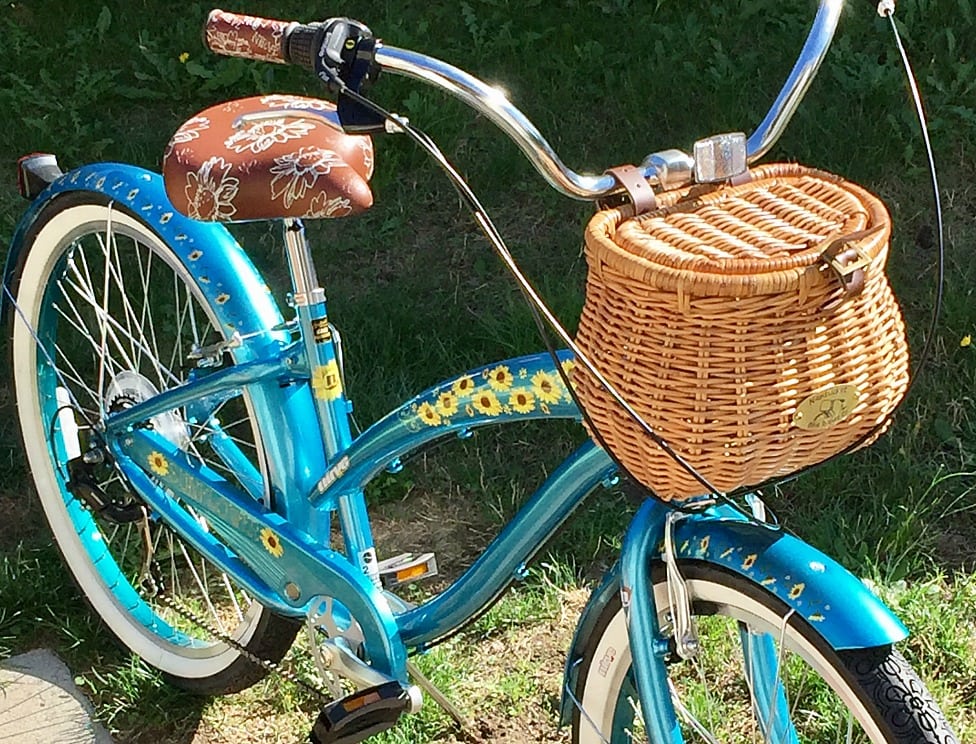 I added this basked to my new Nerve Sunflower bicycle and it was like the crowning jewel. Isn't that beautiful? In the 30 seconds it takes to attach the basket to my bike, I've got practical storage for my stuff and oodles of charm. It's a solid fit and feels completely secure. The only thing I worry about with this is that someone might grab it while I'm in the store. I wish there was a way to lock it to my handlebars. But it is super easy to fasten on and off, so I can always take it in the store with me.
The lid fits perfectly and tightly, so I took the leather strap and instead of feeding through the basket into the lid, I just threaded through the lid and buckled it. The little leather strap through the top makes it easier to open and keeps that cute look while improving the function for me. It's perfect. Find the Nantucket Madaket Creel Bike Basket HERE.