Darn Tough Socks
Summer footwear includes socks and Darn Tough are the best socks out there. They last forever and if they don't, Darn Tough will replace them. I've been wearing them for years and have never had to ask for a replacement. They offer various weights and cushions for different climates and activities, and they are all seamless for ultimate comfort.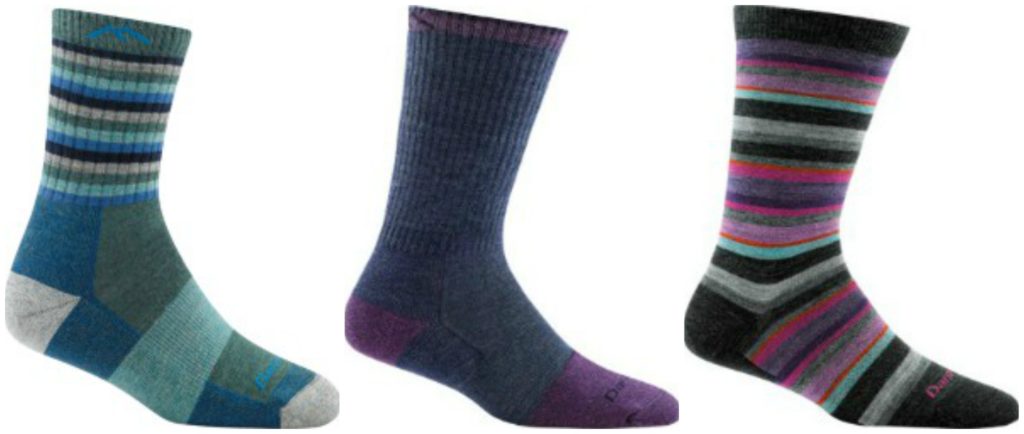 For summer, I love the Stripes Micro Crew Cushion for light summer hiking. They come up lower than a crew and have that extra cush for comfort. Next we have the Steely Boot Sock Cushion which are awesome for more heavy duty hiking. Mid level cushion keeps feet comfy and like all of these socks, they wick moisture away from your feet and there is no bunching, slipping or blistering.
Made with ultra fine gauge merino wool, the Sassy Stripe classic crews are the thinnest of the three and are perfect for when you need something light. The stripes are so fun peeking through your cropped pants or jeans. Socks come in sizing for men, women and kids. Once you wear Darn Tough, you probably won't want to wear any other brand.
HOKA ONE ONE  Hupana
Hokas have become my favorite shoes for comfort. I can walk around a new city all day without any foot fatigue wearing these babies and they are wonderful for daily life.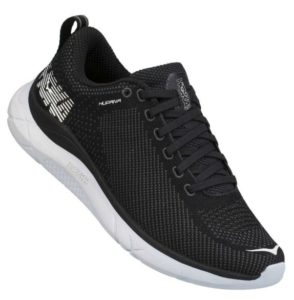 Hoka One One Hupanas are super light weight and won't add much heft to your luggage at all. These also have a lot of ventilation. and are perfect for summer.
There are several variations of this shoe, the Hupana 2 is a cute, all purpose shoe with technical features that still allow for running and other more intensive athletic pursuits.
Chacos Z1 Classic Sandals
If you are going to be around water, and hopefully you will, Chacos are an excellent pick. They come in a huge variety of colors and patterns and last forever. Besides being basically indestructible, Chacos have awesome arch support.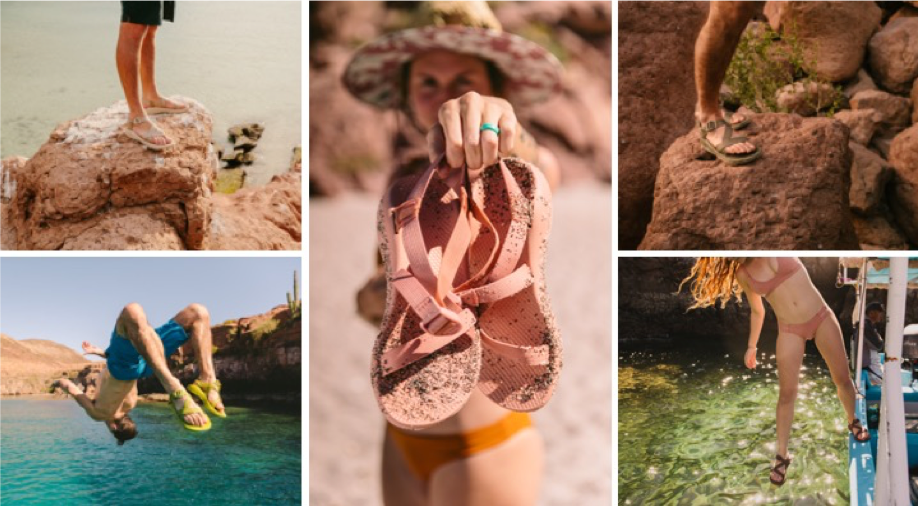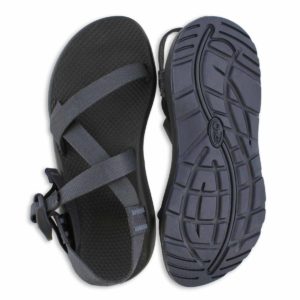 This year Chaco has a series of Chromatic Collection consisting of monochromatic bold colors that highlight the classic design of the Z Sandal. I love the dark gray Periscope sandal that makes a great neutral. They are almost black, but not quite. Very sleek and versatile.
Gray is a good color for summer because it's a flexible color that works with white. It's my favorite neutral. I wear a lot of white in the summer (yes, even traveling) and gray is perfect for that while still looking good with your denim and other colors.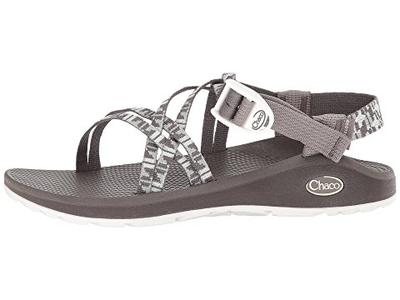 Another gray sandal that's even more perfect for wearing with white is the Z/Cloud X Wide Width in Echo Paloma. I didn't really notice the extra width, so I think they work fine for average sized feet and I love the slivery geometric pattern that looks so cute with white cropped jeans or linen pants.
Sanuk Pair O Dice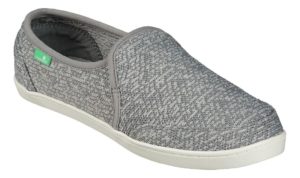 Speaking of summer shoes that go great with white, I'm loving the Sanuk Pair O Dice in marled silvery Wild Dove gray. They are super light weight and won't add bulk to your bag so you can bring along that extra pair.
Sanuk has been knocking it out of the park for me the last couple of years, continually raising the bar with their shoe designs. I almost always have a pair of Sanuk with me on my travels because they're so light. I've learned to always keep a light weight shoe like flip flops–especially in the winter–because your feet get tired and hot and need a break sometimes.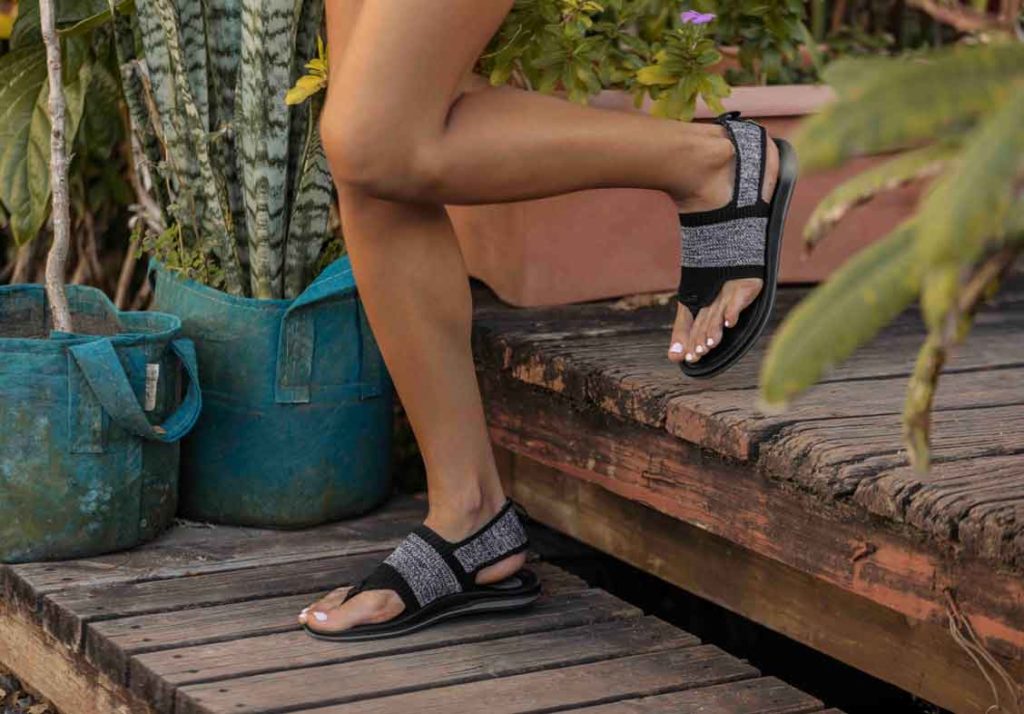 Sanuk Yoga Sling Knit 3
Sanuk also has some new Yoga Slings that have extra arch support. I love that the Yoga Sling Knit 3 are made from hemp and come in versatile neutrals like these cute gray and black marled slings. This is the first time I've tried the sling style and I love them for travel because they are compact and fit in my daypack.
KEEN Kaci Ana Sandals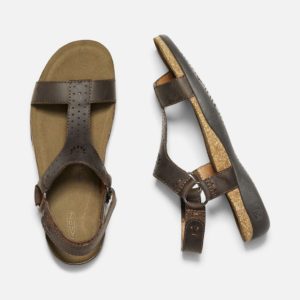 If you prefer leather, the KEEN Kaci Ana is a comfortable sandal that has a vintage vibe. They come in three good neutral colors and have a minimal, slim profile. I like these for wearing with sun dresses and capris..
They have a comfortable KEEN Cush memory foam footbed, and the back strap is adjustable.
. 
KEEN Rialto II Naples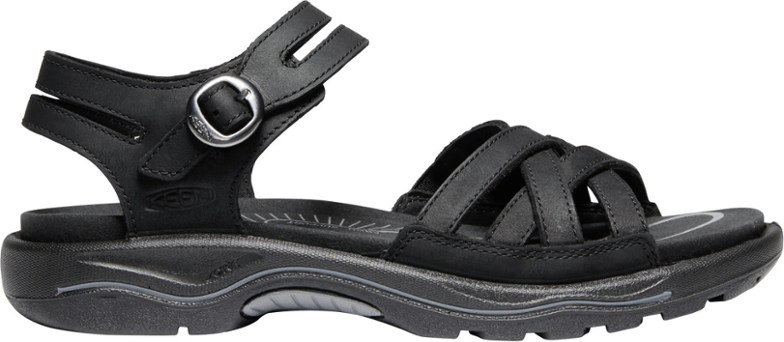 A beefier option with more support is the KEEN Rialto II Naples Sandal. The soles on these have enough traction and shock absorption to get you through light trails and lots of city walking. They are also cute enough to wear with dresses and skirts. They're a solid choice for travel for their versatility and comfort.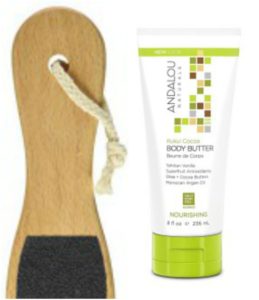 To keep my feet soft all summer, I use Andalou Tahitian Vanilla Body Butter and this foot file. For more ideas on what to wear this summer on your travels, check out my Summer Packing Guide. *Disclosure: Affiliate links below. As an Amazon Associate I earn from qualifying purchases at no extra cost to you, if you purchase via one of these links, thank you, this helps keep my website running! 
Like it? Pin it!