Need some summer food and drink inspiration? Here are some fabulous books that will help you with grilling, homemade ice-cream making and summer cocktail perfection. These books are so beautiful to look at, I think many of them are too pretty to keep on a shelf and would make a lovely addition to summertime coffee table displays.

BEACH Cocktails:
Favorite Sips and
Bar Snacks by
Coastal Living
This book is beautiful. It's appropriate as a coffee table book even though it's not that big, it's just fun to look through. It will transport you to a sandy beach and you can almost smell the salt air.
Beautiful photographs on every page, fun recipes that you can make alcohol-free. We make mocktails all the time. If you're the type who yearns to sip a tropical drink by the water, this book is for you.
From Garden to Grill by 
Elizabeth Orsini
Look at that cover. Such beautiful design, right? Inside the book are pages filled with more beautiful pictures. From Garden to Grill: Over 250 Vegetable Based Recipes for every Grill Master offers welcome vegetarian options for grilling.
My son is an omnivore and I'm vegetarian. He gets one side of the grill and I get the other for my veggie creations. Sometimes I have no idea what to cook, and this book gives me loads of inspiration,

Patio Pizzeria is a perfect fit for my outdoor pizza cooking obsession. The authors go into different methods of cooking pizza outside such as on the grill or in a propane fueled pizza oven.
Interesting pizza topping combos I probably wouldn't have come up with on my own and recipes for flatbreads and panini too. The tone is upbeat and easy to understand. It will get you excited about making pizza at home, and tell you everything you need to know to get started. It also offers plenty for more seasoned pizza makers.
Sweet Cream & Sugar Cones
by
Kris Hoogerhyde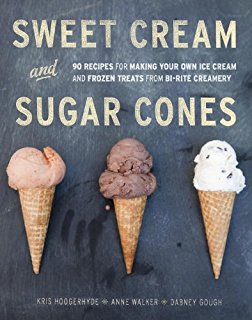 and
Anne Walker
Homemade ice-cream brings back nostalgia from my childhood. Every summer we would make the best vanilla ice-cream on earth, and we'd also make ice-cream with a fresh local harvest, like peaches. If you have a homemade cream maker, why not make all your own ice-cream and sorbets?
Sweet Cream & Sugar Cones is aesthetically pleasing and contains 90 recipes from Bi-Rite Creamery. Photos are gorgeous and often educational showing you the step by step process of making various kinds of ice-cream. this is definitely ice-cream elevated to an art form.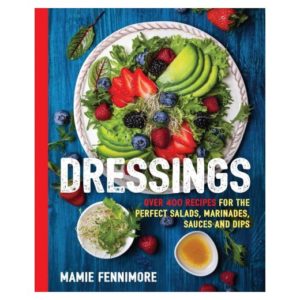 Dressings: Over 400 Recipes for the Perfect Salads, Marinades, Sauces and Dips is a wonderful book for salad lovers. I could live on salads all summer long because they are so refreshing and for me, the ideal food for the season, especially with all the wonderful fresh produce from the farmers' market. For me, it's all about the dressing. It will make or break the salad.
This book is full of dressings for your salads and also dips for summer parties and  marinades for all that grilling you'll be doing. I'm just getting started, but I'm already a fan of the Buttermilk Dressing.

Rubs
by John Whalen II
Rubs: Over 100 Recipes for the perfect Sauces, Marinades and Seasonings will help season all the stuff you're putting on the grill. This is how you get that deep flavor and how you can change up the composition of a meal. Though there are recipes for fish, like a wonderful looking Lime Basil Rub, I would say this book is mostly for meat eaters.
You can (and I will for sure) apply the rubs to vegetables like cauliflower and eggplant. This book has sauces, marinades, glazes and graves in addition to the textural rubs.
The Gardener & the Grill by
The Gardner & The Grill is a great book to turn to before heading to the Farmers' Market. When you get home, you'll have excellent ideas of what to do with your bounty. I love that the authors include international flavors and interesting pairing ideas.
This book has a pizza section–and you know how much I love homemade pizza. I'd also recommend Patio Pizzeria (above) by the same authors.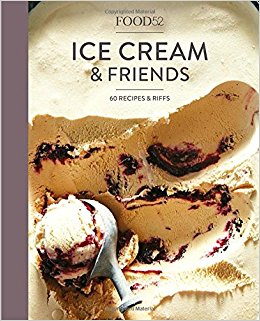 Ice Cream & Friends by Editors
of Food52 and Amanda Hesser
This book emphasizes the social aspect of ice-cream and turns ice-cream making into an event. It's also not just about ice-cream, but popsicles, ice-cream sandwiches, boozy shakes, and even Baked Alaska.
There are useful tips and I love that they include recipes for sprinkles, hot fudge and other toppings. This is a fun book that will make homemade ice-cream making easier and more exciting.

Smuggler's Cove by
Martin
Cate and
Rebecca Cate
There is something about tikis that has captivated me since I was a kid. I'm not alone in my fascination, and Smuggler's Cove: Exotic Cocktails, Rum, and the Cult of Tiki is an entire book filled with tiki culture to embrace this fascinating genre.
Named after the iconic tiki bar, Smuggler's Cove, this is a definitive tiki bible for history, lore and recipes. Fire up the tiki torches and make your own tropical drinks at home.

Ample Hills 
by
Brian
I love that they include a recipe for Waffle Cones in Ample Hills: Secrets and Stories from Brooklyn's Favorite Ice Cream Shop. This book makes me want to visit the creamery.
With recipes like the s'mores inspired Gather Round the Campfire and Strawberries and Cream, this is the perfect summer ice cream cookbook for summer.

I really like the easy to read, informative and conversational style of these authors. This book is a great one for my son who prefers to grill meats, and the recipes have a French influence. BBQ Bistro: Simple, sophisticated French Recipes for Your Grill takes your cookout to a new level and offers something a little different.
For vegetarians, there are vegetable and dessert options. It's a refreshing, upscale take on BBQ.
Red, White, and Que    
Also by Adler and Fertig, Red, White, and Que would be a wonderful hostess gift and centerpiece for July BBQing, with an emphasis on farm fresh American fare. There are meat dishes of ray son to enjoy and fabulous vegetarian options for me, like Grilled Kale Bundles with Warm Cranberry-Bourbon Vinaigrette (which I think would be wonderful in the fall, even for Thanksgiving–and there is a section on Thanksgiving too!), and Grilled Corn with Confetti Pepper Butter.
I love how these authors give so much attention to presentation. Grilled food is not always the prettiest, but they sure do make it that way. Desserts appropriate for Four of July, like Stars and Stripes Grilled Banana Split or the gorgeous Grilled Pound Cake with Blueberry Cardamom Compote give you some great ideas for how to end the meal.
Vegetables on Fire by Brooke Lewy
For some vegetarian grilling ideas that put the vegetable in the spotlight, as the main course, check out Vegetables on Fire by Brooke Lewy.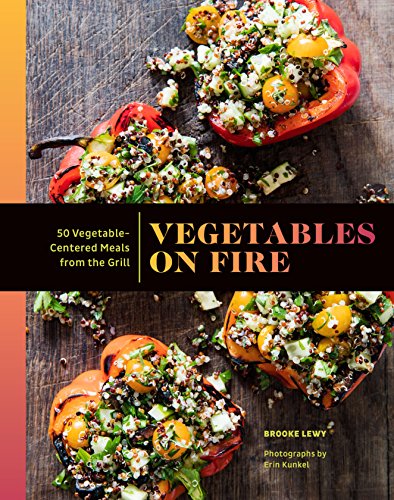 Dishes like Broccoli Burgers and Cauliflower Steaks are among the 'meaty" vegetable dishes. There are a collection of 50 recipes. Most of these recipes, you can cook inside on the stove as well. I'm always looking for new ways to prepare my vegetables and this book offers some great ideas.
There are also sauces and dips which for me can really make the meal. Tahini Sauce,g Fire Roasted Eggplant Dip, and Green Goddess for instance. She does include anchovies in a couple of recipes (which I omit), so it's not a 100% vegetarian book, but you can just leave those out.
I like this book for summer grilling, but it's one that I will be using year round.