Maximus lighting has become one of my very favorite things. I don't think a whole lot about it, but as soon as the internet is down and I don't have access to my cameras, I realize how much I depend on them for everyday needs. And now, there is another can't-live-without light: the Maximus Camera Floodlight. I might like this one the most. It's bright, aesthetically pleasing, and so functional and protective I don't ever want to be without one again.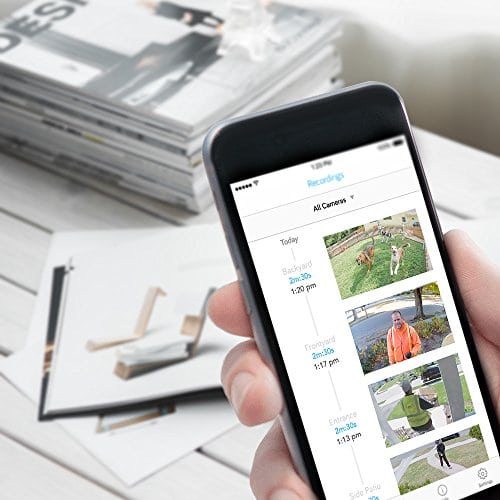 Like my Maximus Porch Light, the floodlight is operable via an app on my phone. It takes all of two minutes to get it going. From there I can see who is at my door or in my yard. If I'm at the store and the UPS guy comes with something I need too sign, I just talk to him through the speaker and I can keep an eye on my packages. It's also great for interacting with your kids as they come and go. With the floodlight, I can see even more of my yard and there are no blind spots. This is great for the side of the house, over your garage, etc. Or, you can just use it as a porch light.
Installation is as easy as installing any other porch light, you jut match up the wires. The first Maximus I got, I had an electrician friend install for me, but after that I felt comfortable installing one myself. It was no different than any other porch light installation.
I love the look, it's modern with clean lines. It comes in white and black–I'm really liking the modern white. The Maximus Camera Floodlight offers 155 degree field of vision with a 70ft motion detection range. It gives me tremendous peace of mind to be able to monitor my house when I am away, but just as much when I am home.
If you want a record of all the action in your yard or on your porch, you can opt to pay a nominal fee to store this information. So then, you get saved recordings of all activity right there on the app. If you turn on the alarm, a recording will automatically start. You can also call 911 from the app, or play sounds to scare off an intruder.
If you look on YouTube, there are a bunch of videos of would-be robbers getting scared off by Maximus lights, it's actually pretty spooky. If they're still not deterred, you will have video evidence. Security issues aside, it's just really nice to be able to interact with people on your porch–family, friends, Fed Ex. On the fun side, you can play holiday greetings and other sounds like a dog barking.
They offer a 60 day worry free trial so that you can try out the light and if you don't like it, get your money back. I suspect they get very few returns. Once you have these lights, you will wonder how you ever did without them. Find the Maximus Camera Floodlight HERE.*Disclosure: Affiliate links below. As an Amazon Associate I earn from qualifying purchases at no extra cost to you, if you purchase via one of these links, thank you, this helps keep my website running! 

Like it? Pin it!