Happy Fall Ya'll! Summer was nice, but I'm always happy to see Autumn. Fitzgerald said that the world was reborn again in Autumn and I totally get that. The air is crisp, my house smells like chai with extra spice and I just get a spring in my step. Packing for fall is not as easy as summer, but it's not as hard as winter and you get to break out the cozy stuff. Here's how to pack for fall with some of my favorite picks this season. *Disclosure: Affiliate links below. As an Amazon Associate I earn from qualifying purchases at no extra cost to you, if you purchase via one of these links, thank you, this helps keep my website running! 
How to Pack for Fall Travel: Packable Favorites
Toad&Co Mix and Match
I've never had a clothing company get me the way Toad&Co does. Toad&Co's soft, comfortable, mostly organic, travel friendly cute clothes go with me everywhere and are a big part of my daily life. I wait like a kid at Christmas to see what they are going to come out with each season, and every time they somehow surprise me. Their clothes are super mix and matchy, so if you have several pieces, you can make many outfits out of them.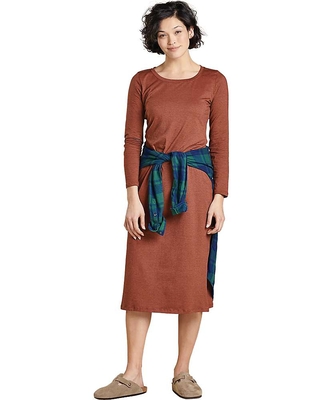 Toad&Co Montclair Midi Dress
The Montclair Midi Dress is super soft organic cotton. It comes in several colors including yummy Paprika which I think is perfect for autumn, and it also comes in my favorite Charcoal Gray which I can never seem to get enough of. I am 5'5, weigh about 138, and wear 10's and 8's. I'm wearing a large in this dress, for a loose fit and it is perfect. The midi length is ideal for me and it's got a secret stash zip pocket on the side big enough to accommodate your id and credit card or cash. You can dress it up or down easily. It's elegant for dinner worn by itself, maybe with some chunky turquoise, but casual too with a flannel or hoodie over it.
Toad&Co Epiq Zip Hoodie
Oh and boy do I have the perfect hoodie for you. I'm crazy about the new Epiq Zip Hoodie which is obviously EPIC. I love the Golden Hour color which reminds me of Ponderosa Pine trees in the fall, or aspens when they turn yellow. It's a hemp and organic cotton blend that is soft and extremely well made with details like side slits, raglan sleeves and vintage fading. It makes a great layering piece and is for me an instant favorite. I don't want to take it off. Note that this piece runs large with a boxy fit, so I recommend sizing down on this one, or at least don't size up to get a looser fit. Medium is plenty big for me and I could probably wear small if I wanted a more fitted look.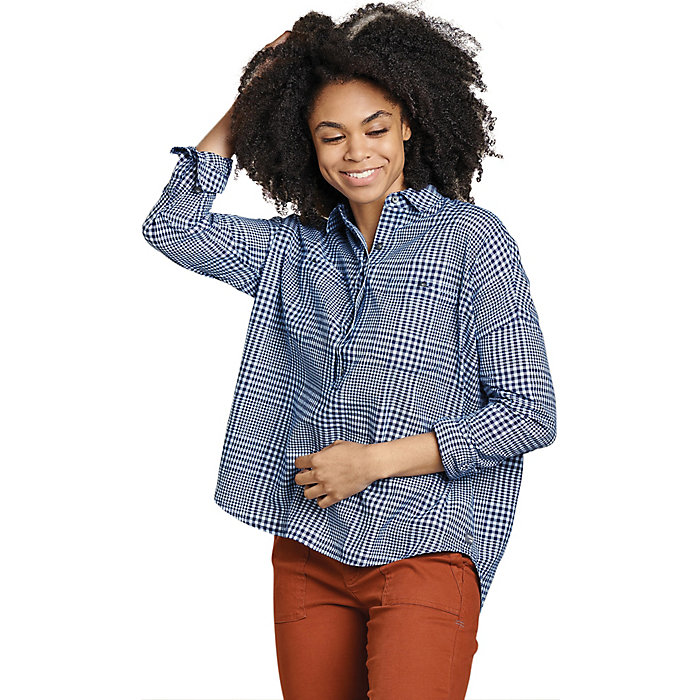 Toad&Co Indigo Wells Popover Shirt
I wore this Indigo Swing Top all summer and loved it (it's on sale right now, so grab one!). I was excited to find more of this light weight, soft fabric in a more fall-friendly style. The Indigo Wells Long Sleeve Popover Shirt is light and airy and a great piece for transitional weather. It won't add any weight or bulk to your suitcase. It's true to size and the medium fits me perfectly.

Outdoor Research Wilson Shirt Jacket
I've been wearing OR for a very long time and I've never been this excited about one of their jackets–the Wilson Shirt Jacket is my favorite thing I've tried yet, and that is saying something because their clothes are awesome. This is a bit of a departure for them, and one I hope they run with. It's part of the Mountain Life Collection.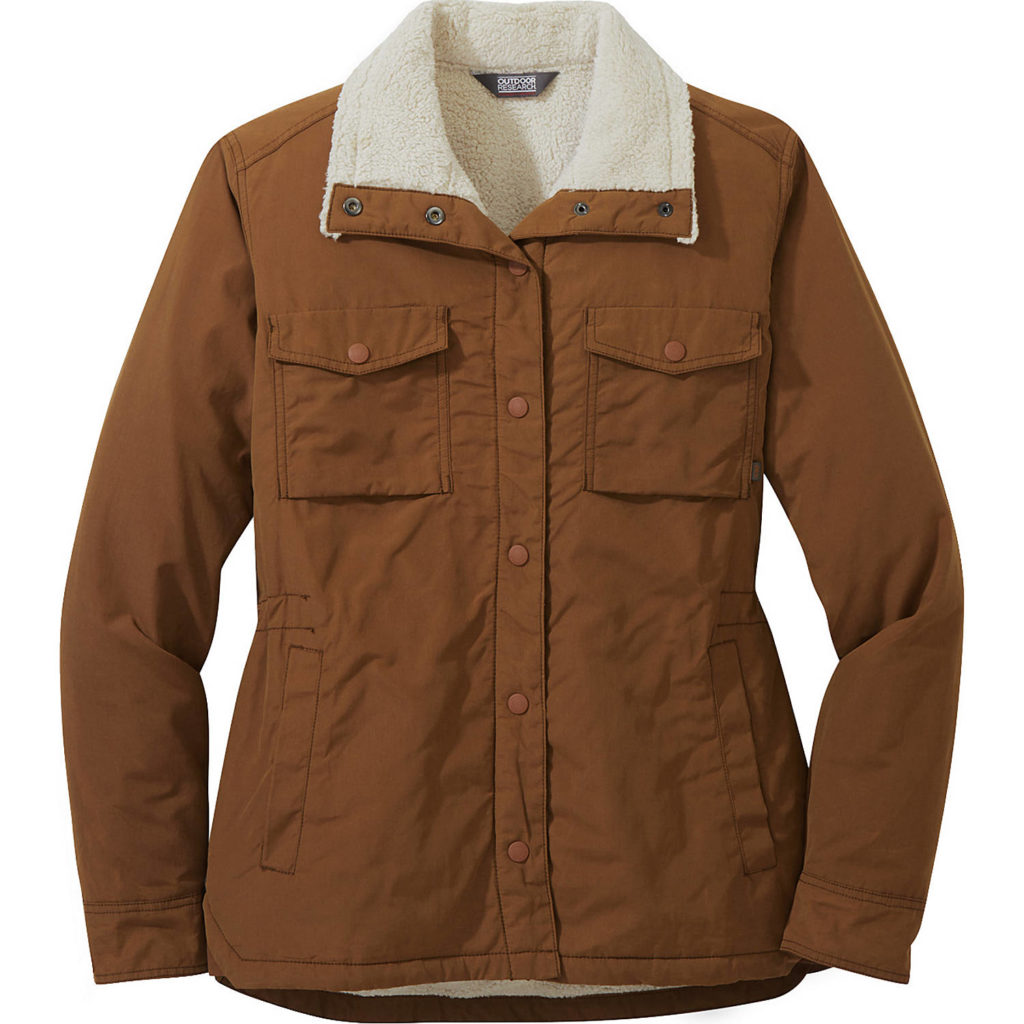 What I love about this is–everything. From the yummy caramel apple color ("saddle" in their description), to the plush, butter soft faux shearling lining, to the flattering fit. This will be my go-to fall jacket. And you know what else it will be? The one I pack for equestrian travel. It is very light weight and has just the right warmth for fall without adding bulk. It has a rancher look that I absolutely love. I recently wrote a post about how to dress like the characters on Yellowstone–I'm adding this jacket to that post.

I would probably wear this in the winter too, with appropriate base layers, depending on climate. The Wilson has a figure flattering fit. OR tends to have an athletic, slim fit, so I usually size up to large and extra large because I like my clothes to fit loosely. In this I am wearing a large, but I probably could have gotten away with a medium. The sleeves are a tad long, but I am loving this fit and it will allow me to layer as much as I want underneath. I love the snap closure and inner zip pocket.
It comes in a dark green too (now I want both). I can't say enough good things about this jacket. It's the perfect travel jacket for an outdoorsy or horse friendly trip. It will look cute with cowboy boots or hiking boots and a flannel or denim shirt underneath. It's practical, but fashionable, and it's insanely comfortable. One of my favorite pieces of the year.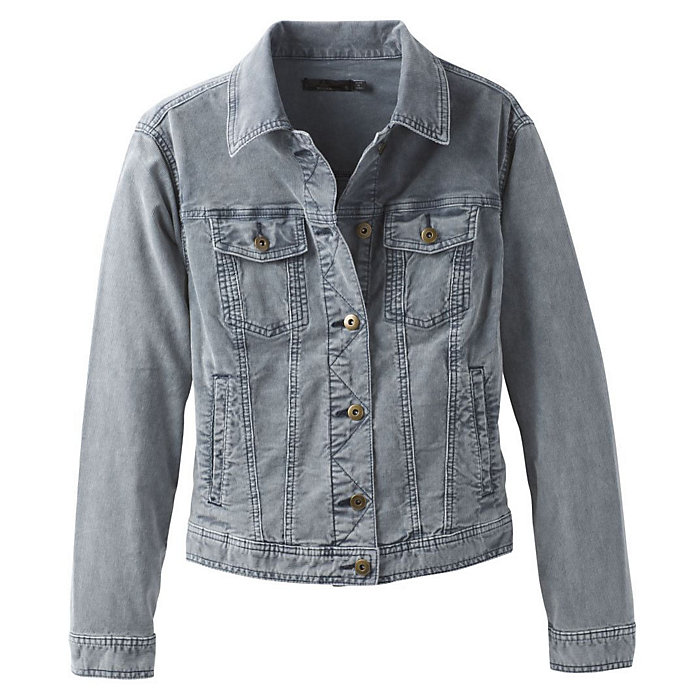 prAna Merrigan Jacket
Fall is a great time for corduroy. prAna's Merrigan Jacket also has that rancher look I like so much, but works just as well as a cute city travel piece. That versatility is always wonderful. It's a pretty blue-gray and made from soft organic cotton. There's a little bit of stretch in this jacket for mobility.
It's a versatile piece that looks great over dresses and with dark jeans and boots. This one has a fairly slim fit, I am wearing a large and it is not super loose.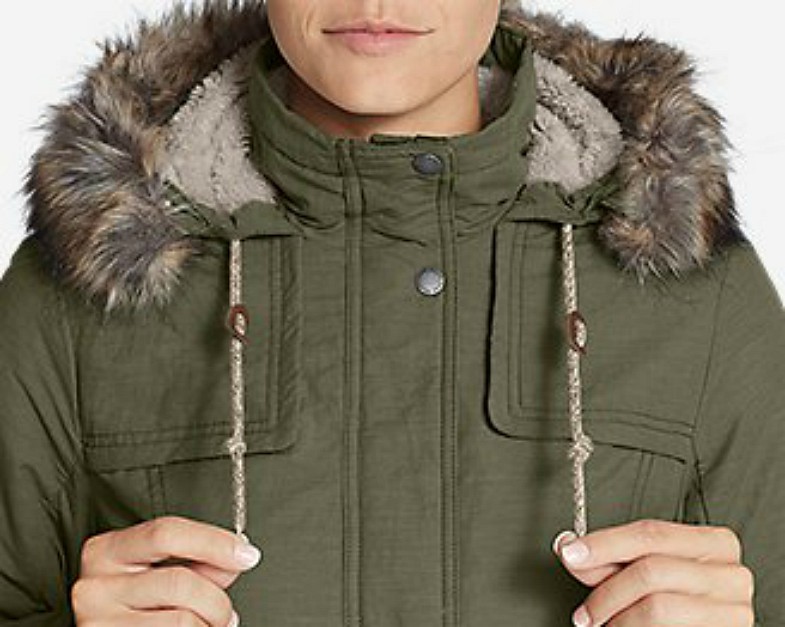 Eddie Bauer Ladder Creek High Pile Parka
If you need something a little beefier for a fall coat, check out the Eddie Bauer Ladder Creek Parka. I'm madly in love with this coat! It fits the bill in every way, you can read my full review HERE.

You all know my favorite socks are Darn Tough. They're the best, hands down. Not only are they full of function and comfort, but they have some really cute designs. This season they came out with probably the most adorable design ever, these Bear Town Micro Crew Light Cushion Socks. Have you ever seen a cuter sock? Seriously, they are adorable. The bear looks like a real bear, not a teddy bear, and I love that. I might need these in both colors, they are that awesome.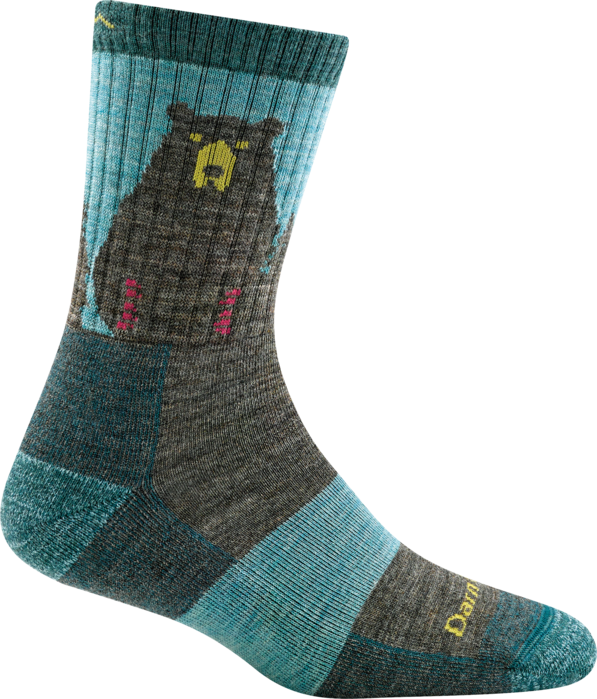 The other new graphic design I'm swooning one is the Treeline Micro Crew Cushion. They are beautiful! Anyone who loves evergreens (and who doesn't?) will love these socks. The tree silhouette, a night sky background with a moon…how wonderful to wear art on your feet!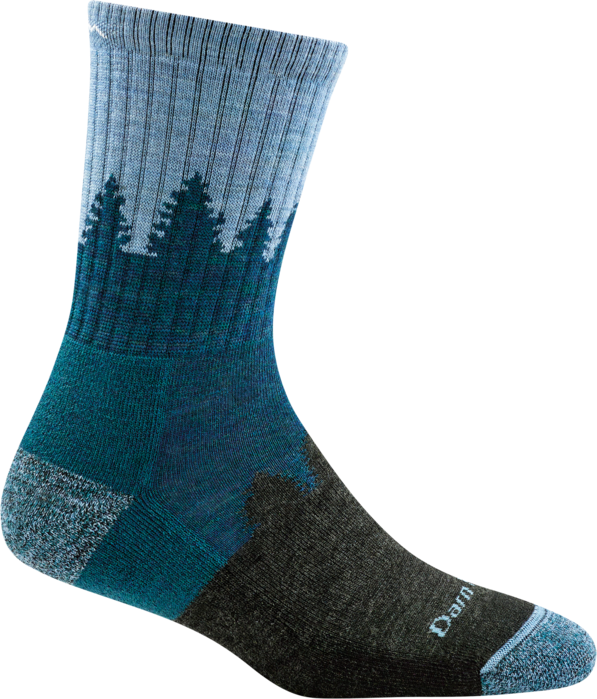 For more wardrobe staple needs, I'm loving the Charcoal Gray Solid Basic Crew Light Socks. This is just essential footwear. And if you want to go more minimalist, the men's Light Hiker Micro Cushionis basic in looks but technical in function with breathability in all the right places to keep your feet comfortable while hiking. A men's small is the same fit as a women's medium and I often love the men's color schemes, so don't forget to check their new socks for the season too! All the above socks are light weight and perfect for fall.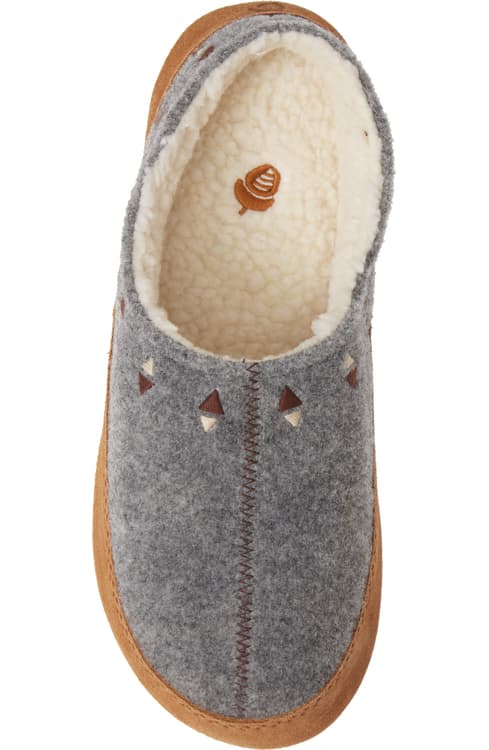 Acorn Geo Hoodback Slippers
Fall is slipper time and a symbol of cozy at-home comfort, though I travel with slippers often. Acorn's new Geo Hoodback Slippers are perfect. I love the heather gray (they come in three colors), the faux shearling lining, and the cool geometric design. They are simple with just enough going on to make them interesting and the care is easy since they are machine washable.
They have a moccasin look. Slides are my favorite style and these are slides with a little lip on the back to keep your foot in–the holdback. I might like these even more because they stay on my feet better with no effort and provide a tiny bit of extra warmth. The Acorn Geo Hoodback Slippers are the kind of thing you buy two of because you don't want to be without them if they ever get discontinued.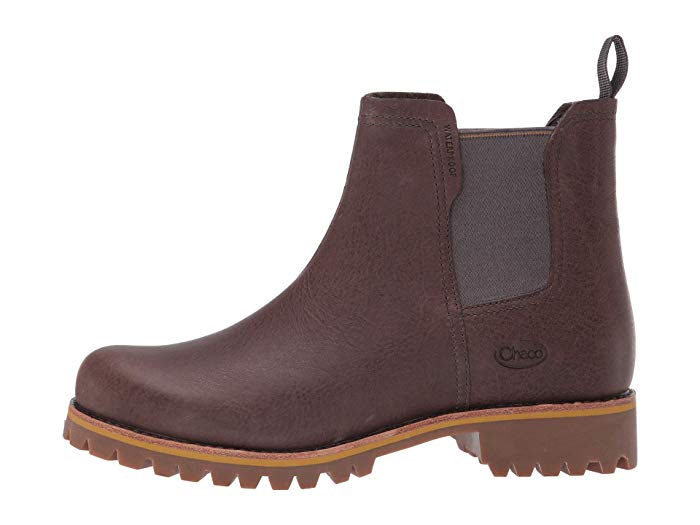 Chaco Fields Chelsea Boot
One of the best things about fall is getting to wear boots all the time. I love a low boot, especially the Chelsea style. Chaco's Fields Chelsea Boot is a comfortable boot that you can dress up or down. It is so comfortable! If you are someone that needs arch support, you will probably like these.They're waterproof to withstand the fall rains and some snow.
I have to say, even though Chaco is famous for their sandals, they kill it on their other footwear. This is the second pair of boots I've tried by them and I can't believe how much I love them (see the Borealis boot for another fantastic option). Chaco is consistent in sizing for me, I wear a 9 across the board. The Fields comes in black and brown and after wearing them, you will probably want both.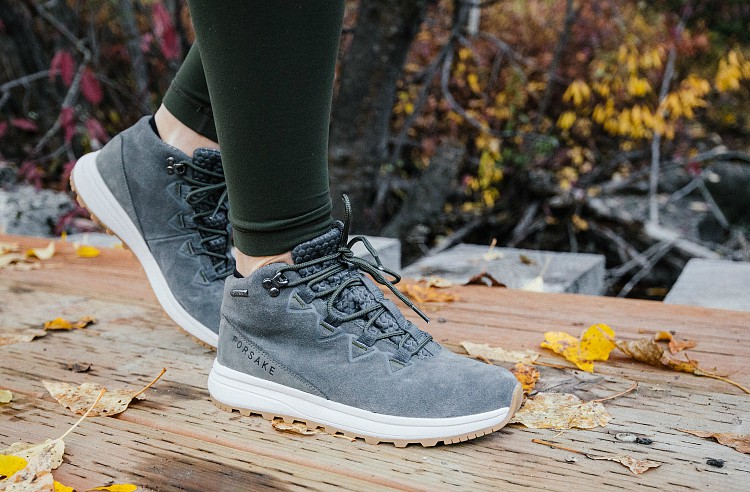 >
Forsake Tract Boot
Forsake's Tract Boot is a travel friendly, breathable, light weight boot. The Peak-to-Pavement outsole that keeps feet happy on the trail and city streets. I like the gunmetal gray suede and I love that they are waterproof. These boots have great traction and feel good instantly, no break in time for me.
They run true to size, I'm wearing them in my usual 9. Did I mention how great looking they are? Forsake's look is different from other outdoorsy footwear out there, and I find it refreshing. This is my first go with this brand, and I'm super impressed, kind of wondering why I didn't try them out sooner!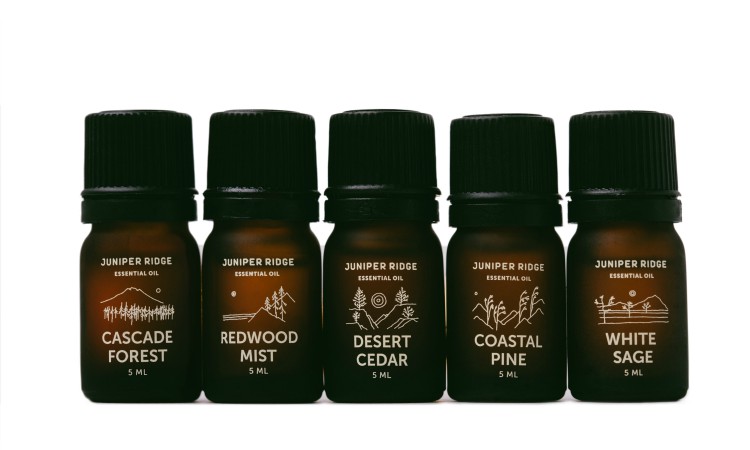 Juniper Ridge Essential Oils & Tea
Autumn for me is earthy and has a distinct smell. Juniper Ridge has some wonderful, wild harvested oils that capture the mood and scents of fall. They embody the wilderness of the west coast. They area little different from other essential oils I use. They are a little more woodsy, more of the earth and dirt and I am loving them. The Essential Oil Gift Set is  a great way to get to know this rustic yet modern brand.

Juniper Ridge oils are sustainably harvested from wild plants. I travel with essential oils often, and use them at home regularly. A few drops in bathwater transforms your bath, or you can do the same with a shower by adding a couple of drops to the floor of your shower. These oils make me feel grounded. My favorite oil is the Coastal Pine. It's the smell I swoon for when hiking in the woods, it's one of the best smells in the world. How amazing is it to have it in a beautiful little bottle!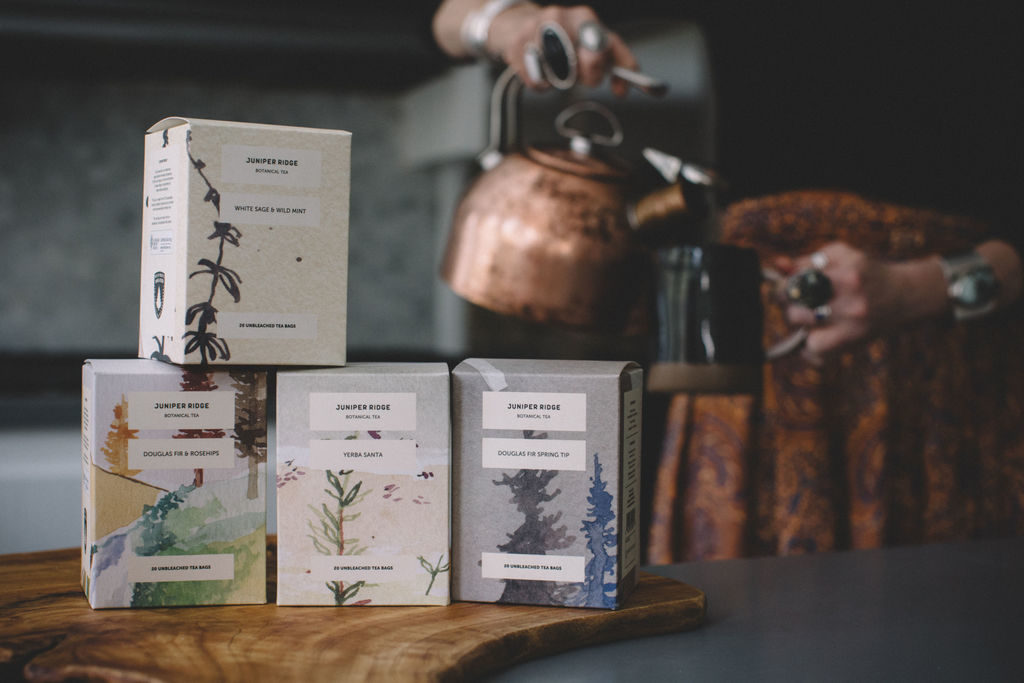 Tea is another fall essential for getting cozy and Juniper Ridge also has unique teas like Douglas fir Spruce Tip, Yerba Santa, and White Sage that take you back to the forest or the desert. You're literally drinking in the landscape. I'm really big on reliving my travels through sensory experiences at home that recall the place (spices, beverages, food, etc).
What better way to re-experience a destination than to drink fruits of the land, or bathe in the aromas of the place? The artwork on the tea boxes is beautiful and gift worthy. The holidays are around the corner and both the oils and teas would make a great gift.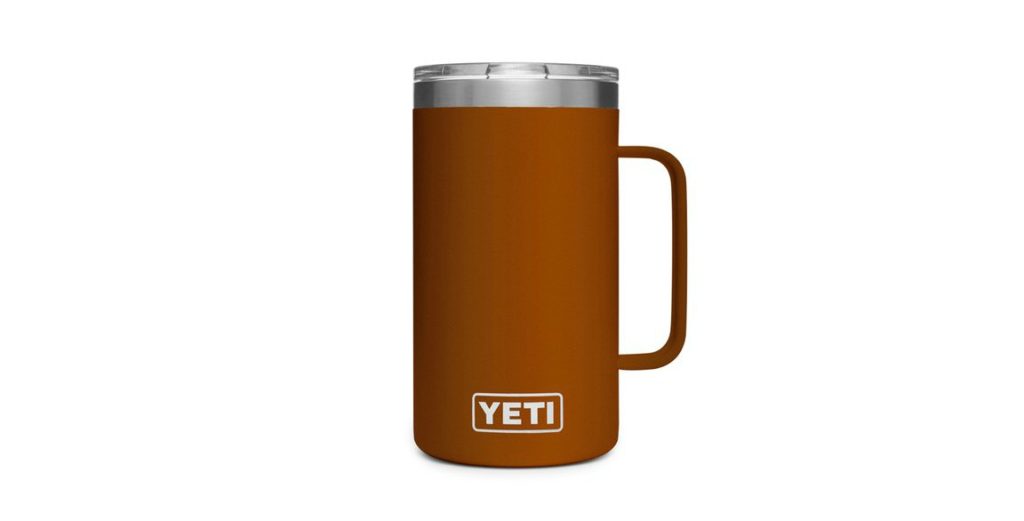 Yeti Rambler Mug
Now you need an awesome travel mug for all that yummy tea. Check out the Yeti 24 oz Rambler Mug. Feels great in your hand and keeps beverages hot or cold for hours. Yeti is calling this a beer mug, and of course that works just fine. But I love it for chai which I drink from fall to spring. By summer, I can see using this at the camp site for both beer and morning coffee. Versatile, beautiful mug!

Eagle Creek Cargo Hauler
Now you need a bag for all this stuff, right? Check out the Eagle Creek Cargo Hauler. Look at this autumn colors Golden State bag, isn't that perfect? It's supposed to represent California, but I like it more as a generic woodsy theme. This is not a bag that's going to go missing at the airport, or get mixed up with someone else's stuff.
Inner dividers keep your things organized, and my favorite thing about this bag is that it folds up into itself and packs down, so you can take it along easily to accommodate any new items you pick up on your travels.

Like it? Pin it!