I've just discovered a new favorite beer. A few actually, and one brewery that just went right to the top 10 of my personal favorites list: Elysian Brewing Company Pumpkin Beers. I'm a pumpkin fiend, and I get so excited when all the pumpkin stuff comes out in fall. Putting pumpkin in beer was just genius, and for me, the smaller breweries do the best job with craft pumpkin beers. Seattle's Elysian Brewing Company might just make my very favorite.
I can't believe I am just now discovering Elysian's famous pumpkin brews. They're really in a league of their own with layers of flavor and subtle notes that delight the senses. I love that they source their pumpkin from local Washington farms. The fabulous labels have a Halloween theme, but I'm already thinking ahead to Thanksgiving, when I would much rather have a pumpkin ale with my meal than wine.
Punkuccino Coffee Pumpkin Ale
One of these Elysian Fall Beers really stole my heart. It's the Funkuccino Coffee Pumpkin Ale, and it has the best of autumn in one drink–beer, coffee and pumpkin. Come on, that's heaven in a glass. First of all, I don't think I've ever tried a java brew that I didn't like. Whoever thought of blending coffee and beer was really thinking big because it's a marriage of two of earth's best drinks. Add the pumpkin for fall and you have something truly wonderful for the season. It's so cozy with chocolatey notes. I wish it came in 6-packs so I could have small amounts at a time, this would be my go-to fall adult beverage. In the big bottle, it's more of an event, something to be shared.
If you're someone who can drink 22 ounces at once, then you'll probably appreciate the size. It's smooth and full of flavor. It's so rich and satisfying that a pint is plenty for me. This beer solo, or paired with a hot pumpkin soup and hearty kale salad and I'm in fall foodie heaven.
The Great Pumpkin Imperial Pumpkin Ale
The Great Pumpkin Imperial Ale had me at Great Pumpkin. It tastes like yummy pumpkin pie with cinnamon, nutmeg, allspice, ginger and clove notes. It's creamy and delicious. A little goes a long way with an alcohol content of 8.4%.
Brewed with pumpkin seeds in the mash, this beer is bursting with spicy, caramel, pumpkin flavor. It looks so pretty in a glass–they all do. This is a great beer to enjoy while getting in the spirit of Halloween.

Night Owl Pumpkin Ale
With less alcohol content at 6.7%, Night Owl Pumpkin Ale is a slightly lighter beer, but similar to The Great Pumpkin. I like having a less-strong option. This one is available in six packs.
Night Owl is Elysian's flagship pumpkin brew and is made with seven and a half pounds of pumpkin per barrel.
Dark O' The Moon Pumpkin Stout
Last but not least is Dark O' The Moon Pumpkin Stout. It's a stout, and I know I'm going to love it, but I haven't tasted it yet. I'll be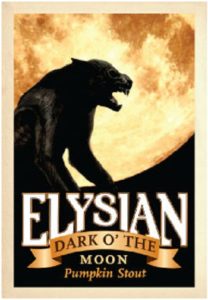 back shortly to update this page with my impressions, but for now, I'm excited to test a pumpkin stout, which I've never even seen before much less tasted. I will update as soon as I taste it. Cheers guys, Happy Halloween!