I am a huge fan of stuff that comes in organized kits. The new GSI Outdoors Santoku Knife Set comes in its own carry case and is so well done it sets my OCD aflutter with joy. When you're out on the camp site (or park, beach, etc) and you need your knives, you will know just where they are, all nice and clean and ready to go. I've never seen camp-Santokus, have you? That is something I really love about GSI, they take outdoor gourmet cooking seriously.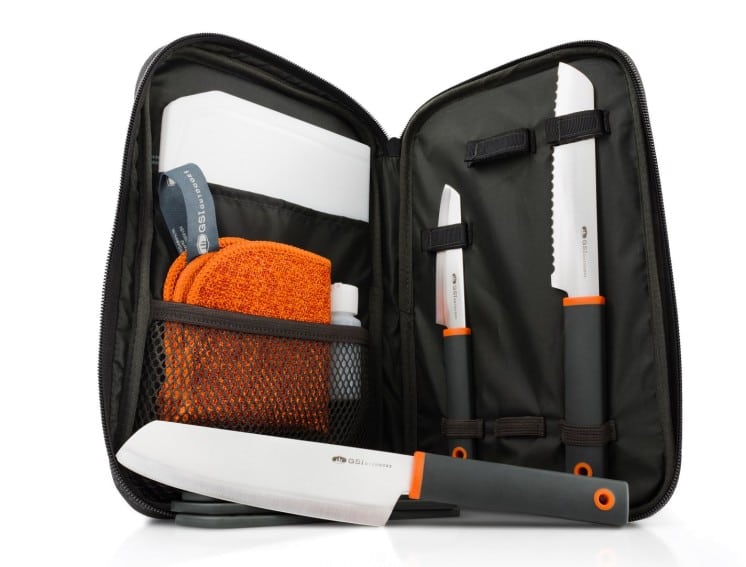 Cooking outside is such a wonderful experience. When I go camping, I almost always prepare more elaborate meals than I normally do at home because it's just so enjoyable to cook out in the open air. One of my favorite meals to make while camping is teriyaki. My key camp cohort has a recipe passed down through her family that is out of this world, so every time we go camping, it's kind of a tradition. These will make that meal prep all the more enjoyable.
The 2lb set comes with three knives, a 6-inch Santoku, 6-inch Serrated knife,  4-inch Paring knife (all with safety covers), cutting board, bottle for soap, and a quick-dry microfiber dish towel with a handy loop for hanging. Handles have a grippy, rubbery texture that is pleasing to the touch. It's a lovely set that would make a great gift for campers and make your summer outdoor cooking more exciting. Find the GSI Outdoors Santoku Knife Set HERE.