The GRAYL Ultralight Water Purifier Bottle is a new type of water purifier, offering straight forward access to potable water with a press function. It's great for international travel, backpacking, camping, and disaster preparedness.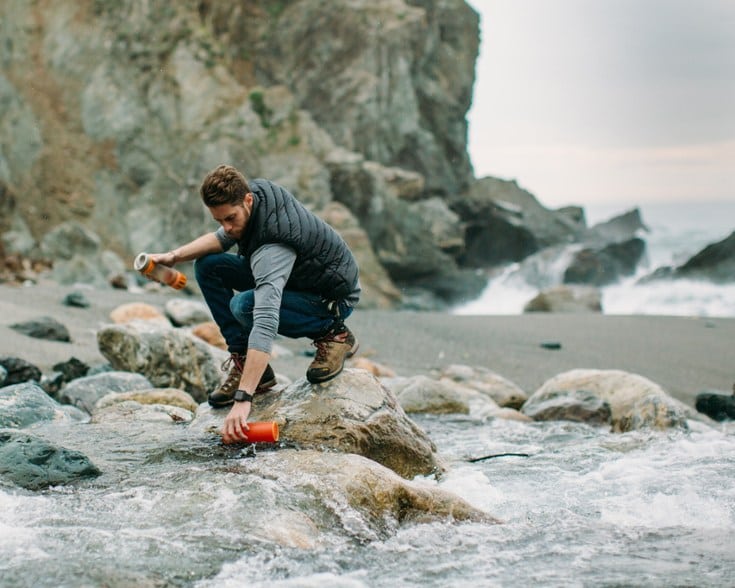 You just scoop up your water from your water source, press in the filter all the way down to the bottom and voila! Clean water to drink. Nice and simple. The GRAYL Ultralight Water Purifier Bottle removes 99.9999% of viruses like Hepatitis A, ad Rotavirus, and disease-causing bacteria like E. coli and Salmonella. It also removes 99.999% of protozoan cysts like Giardia as well as particulates, some chemicals, heavy metals, and bad tastes and smells.
A water filter is a must-have for your emergency kit as well as camping gear. That simplicity is really a good thing in any sort of disaster situation, and knowing you have a way to get water to drink is priceless. Each cartridge is good for about 300 uses, but I have read that the longer you use it, the harder it is to press. It would probably be a good idea to have some extra filters on hand.
Designed to fit in your backpack's water bottle pocket and cup holders, it comes in several colors, you can get one for each member of the family. *Disclosure: Affiliate links below. As an Amazon Associate I earn from qualifying purchases at no extra cost to you, if you purchase via one of these links, thank you, this helps keep my website running! .