Have you been making an effort to eat extra healthy this month? After the holidays I'm usually focused on nutrient dense but light fare to get me back on track. Soups and salads are a great way to pack a lot of nutrition in a meal. Soup is also the perfect winter food, and you can make a nice big batch with leftovers that usually taste even better the next day.
Clean Soups
Clean Soups by Rebecca Katz is full of simple recipes that are loaded with nutrients and comfort.
Today I made the Coconut Cauliflower Turmeric Ginger Soup and it was delicious. Turmeric and ginger are great for inflammation and for me it really helps because I can't handle works anti-inflammatory medicine because it tears up my stomach.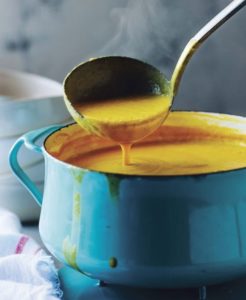 Magic Mineral Broth forms the base for many of the soups in the book, and also gives you a good foundation for your own creations. Not all recipes are vegetarian, but I just omit any meat and it's fine for me.
One of my favorite sections of the book is the Toppers which offers garnishes and toppings like Herb Drizzle,  Polenta Croutons and Parsnip Chips. A little bit of crunchy texture on the top of a bowl of soup can make it exponentially better.
a
b
Superfood Soups
SuperFood Soups by Julie Morris shows you how to incorporate superfoods like goji berries, mama root, chia, and cacao.
This cookbook is a little more complicated than the last one, but these soups are so original and imaginative it's worth the extra effort. For instance the Persimmon Holiday Soup is a gorgeous soup with pomegranate arils and hazelnuts as a delicious and festive topper. This soup is pretty enough for center stage.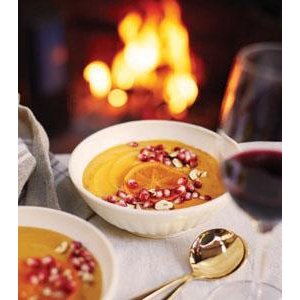 Superfood Ramen Bowl, Golden Cauliflower Soup with Seared Mushrooms and Cacao Black Bean Soup are all fabulous. Simpler soups like Healing Broth and Detox Broth are perfect for cozying up when you're sick. And there are cold soups too, for the summer.
The Soup Accoutrements chapter is wonderful with recipes for Coconut Bacon Bits, Hemp Seed Parmesan, and Candied Seed Clusters. Like a dressing on a salad, I think the toppers can make the soup.