One of my favorite things to do in a new place is get some bikes and ride around checking things out. But sometimes (most of the time), loaner bikes do not come with any sort of basket or carrier for my stuff. It's really handy to have something with you that works on a bike. Enter the Detours Rainier Handlebar Duffel Bag.
This little bag–and it is little in person (and very packable), is the perfect size for handlebars. The design is so smart, cute, and well thought out. It even has a sparkly banana on the inner flap to remind you to stash a banana in there for a quick snack on the go. Practical with a sense of humor–I love it.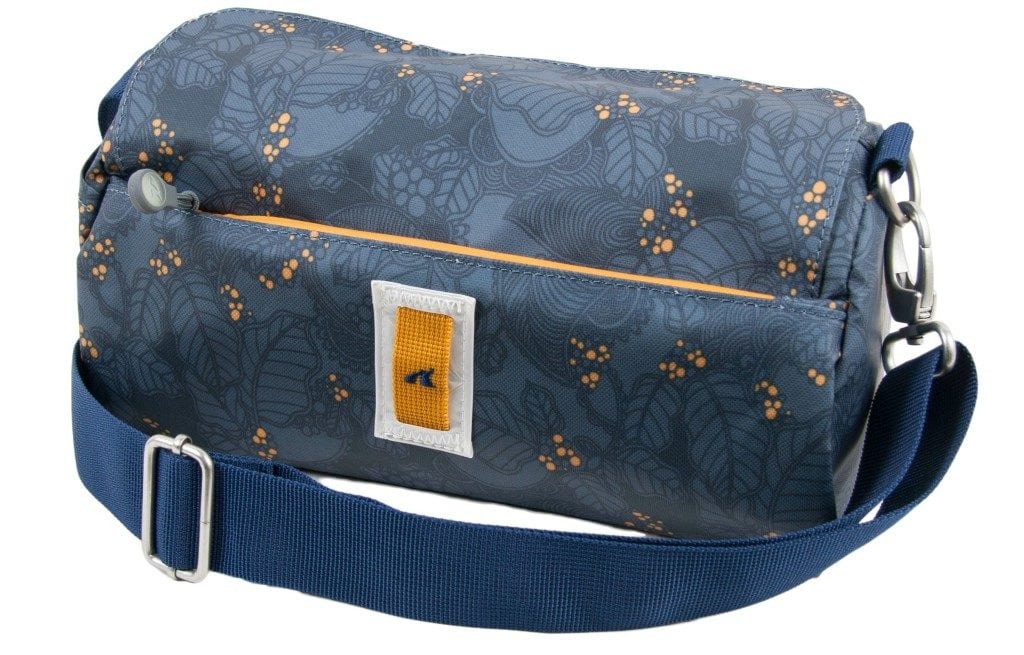 The Detours Rainier Handlebar Duffel comes in fun colorful designs as well as basic discreet black. The strap is long enough to wear this as a cross body. On the inside, you'll find a zipper pouch for cash/id and some organization pockets. This bag is plenty big enough for my iPhone 6+, a water bottle and snacks besides the banana. You could fit a small bike pump and tools, a hat, all kinds of stuff. It's small, but holds a lot. There's an outer zip pocket with a key hook to keep your keys secure. The flap with the glitter banana has a magnetic closure and there is an outer tiny stash pocket on one side.
Getting it on the bike is as simple as clipping the two fasteners around the handle bars. The clips are adjustable to get it nice and tight. Reflectors on both sides add to safety as well as a reflective loop on the front to attach your blinkie light. It functions great as a handlebar bag, and when you get where you're going, unclip and wear it as an adjustable crossbody bag. Brilliant. Find this fabulous Detours Rainier Handlebar Duffel Bag HERE.