For me, the best part of camping is the campfire. I can't wait to get set up and get the fire going, it gives me deep, primal satisfaction. But sometimes, a fire isn't possible. You arrive too late at the campsite and there's not enough time to manage a campfire, you're camping at a place where fires aren't allowed, or there's a burn ban. Well here is an excellent option for still being able to enjoy your campfire: the Camp Chef Redwood Fire Pit.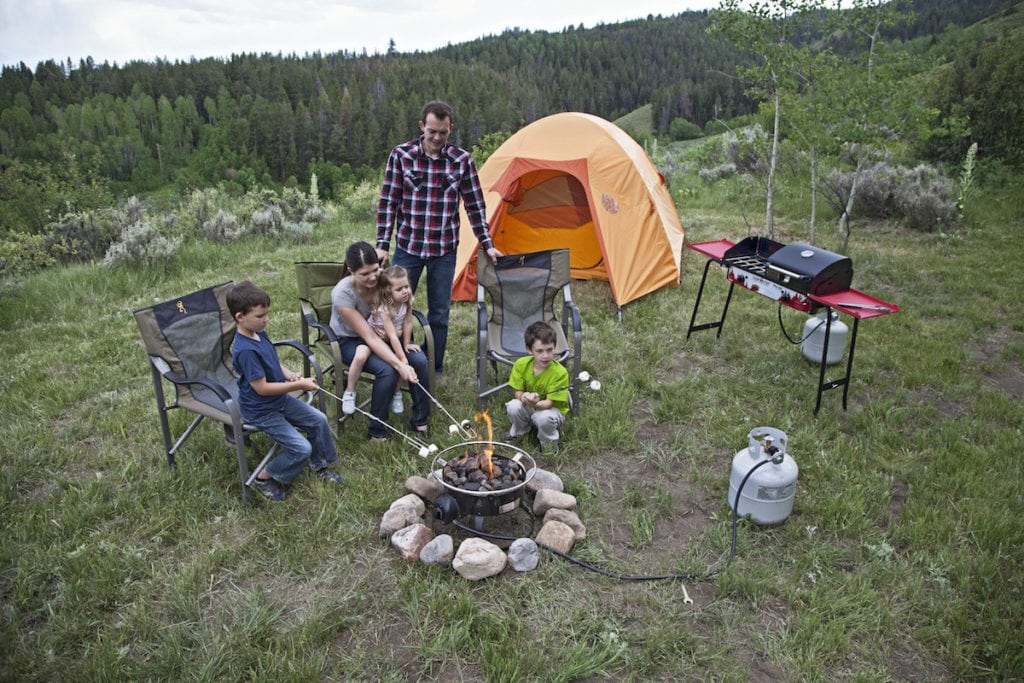 Isn't this cool? Look at the cute tree cut-outs. It's easy to use, you just hook up the propane and turn the knob just like you would with your camp stove. The hose is nice and long so you can place it strategically. it couldn't be easier to use. They do recommend covering it with the included screen and letting it run for 15 minutes the first time to let any crackling pieces burn off as a safety precaution, but after that, you're ready to go.
The Redwood comes with high quality marshmallow roasters and a carry-case cover, I think it's great that they include these things so you're ready to go right out of the box (besides propane and marshmallows).
When you can't get out to go camping, you can fire this baby up on your patio. It can be a spontaneous thing because it only takes a few seconds. No muss, no fuss. When you're done, you just put it back into its carry case and it's ready for next time. Find the Camp Chef Redwood Fire Pit HERE.*Disclosure: Affiliate links below. As an Amazon Associate I earn from qualifying purchases at no extra cost to you, if you purchase via one of these links, thank you, this helps keep my website running!