Here are my picks for holiday gifts for travelers, adventurers and those enjoying home sweet home. Hope you all have a season filled with Comfort and Joy!
The O-Venture Rose Gold Big O Bracelet Bag & Coordinating Key Ring is something festive for the modern traveler. I love metallics and this cute travel friendly bag and sparkly matching keying is perfect for the holidays and Oh-sO-mOdern! A Bracelet Bag is a great travel accessory that takes up very little real estate in your luggage while adding style to your look and holding all your essentials.
Everybody needs a good key ring and once you try an O-venture Big O Key Ring, all others take a back seat. These are so convenient because they keep your hands free to carry bags, babies, etc. You can get a matching leather O-ring to match the bag, but I really love the sparkles in this Rose Gold Confetti Silicone Big O Key Ring. It clips onto the bag and anywhere else you would like to clip it.
I'm obsessed with this insulated Yeti Rambler Mug. I only just discovered it and wonder how I've done without it all this time. I'll probably never travel without it again. Tazo Organic Chai is a staple in my carryon, and I just sort of wing it with cups. Now I've got a beautiful mug that will keep my beverage hot or cold for hours. You can also use this for making in-room ramen, oatmeal and other instant type food. This is a great gift for the coffee or tea lover, and it would be fun to include a box of tea, or their favorite coffee beans.
Hats are great gifts because you don't have to worry about size. The Turtlefur Monochrome USA Beanie is well made and fun with stars and stripes in neutral shades of gray. A soft fleece band feels great against skin and this thick hat is toasty.
The Nomad Slim Wallet with Tile Tracking is a great gift for men, but I love it too. Over time it develops a unique patina. This is a great wallet for people like me who want to carry only the bare minimum and Tile Tracking prevents you from losing it.
Every traveler likes nice luggage. The OOO Carry-on charges your devices on the go with a built-in power bank. It's also a beautiful bag with a geometric design on the shell and organization compartments inside.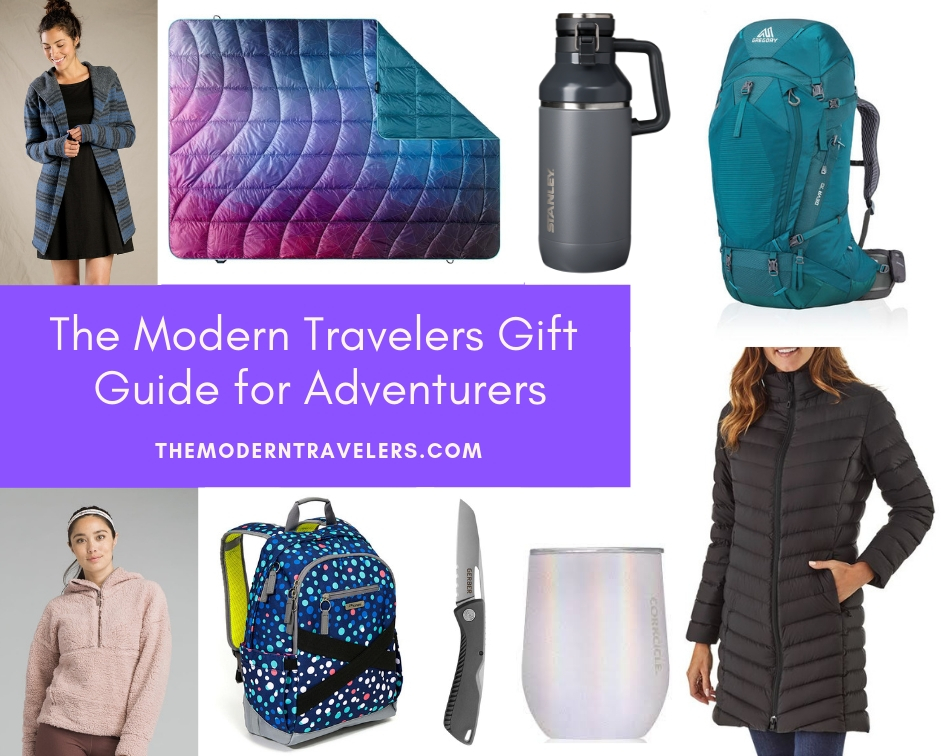 Everybody could use a Rumpl Blanket because they are so handy, and they are functional art. This cool Fractal Blanket has a purple, turquoise and burgundy color pallet with a modern geometric design. There are more gorgeous blankets where that came from, all with a unique design. These are like mini sleeping bags and work great for keeping warm in a hammock, supplementing your sleeping bags in the tent, or snuggling in front of a movie.
If you want to go big, the Patagonia Silent Down Parka would be a killer gift. It's one of my favorite discoveries of the entire year. I love it because it keeps me very warm with minimal bulk and it looks great. Patagonia stuff lasts forever and their coats are among the best out there.
Toad & Co always makes it into my gift guides because their clothes are perfect for modern travelers and often made from organic materials. This Toad & Co Heartfelt Sweater is a versatile piece that looks great with jeans or over one of Toad & Co's cute, travel friendly dresses.
For the beer drinker, the new Stanley Ceramic Growler has a ceramic interior to prevent any sort of metallic taste. This new technology is something I haven't seen in any other growler, and it packs all the toughness of Stanley products.
For the wine drinker, I love the sparkly Unicorn Magic Corkcicle Seamless Tumbler. The entire Unicorn Magic Collection is perfect for the holidays with festive iridescence and sparkles. You can get a water bottle or insulated tumbler for coffee or smoothies on the go.
prAna's Permafrost Half Zip is like wearing a stuffed animal. It's cuddly and warm and made from recycled polyester. I love prAna for their high quality clothing made from organic and eco friendly materials.
The Po Campo Irving Bike Backpack is beautiful and full of function with reflective details to keep you safe, a place to put your helmet, and innovative magnetic clasps.
I first heard about Gregory's Deva Backpack from a forest ranger who swears by it. That was years ago when the Deva was an awesome backpack. They have since made improvements making it even more awesome. This is a high quality, luxurious, comfortable pack that's built to last.
A pocket knife is a necessity for all outdoorsy people. I find the simplicity of the Gerber Sharkbelly a pleasure to use, it's a great minimalist knife perfect for everyday carry and stocking stuffers.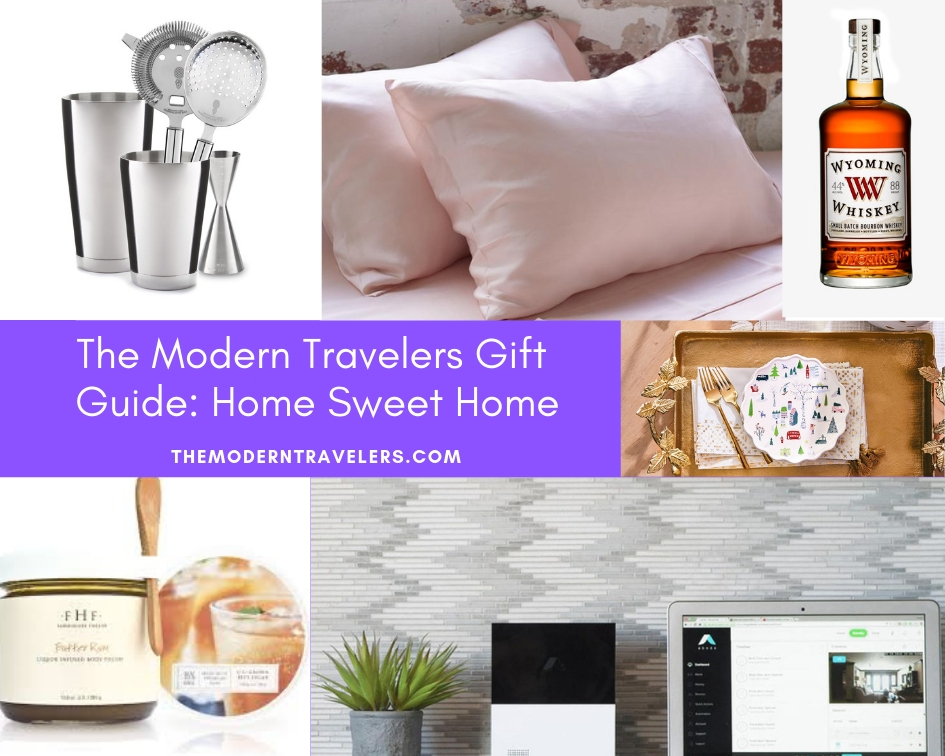 Piña Barware makes my favorite bar tools. I discovered them this summer and don't know how I ever made cocktails without them. I especially love the Boston Shakers, a favorite among professional bartenders. The pineapple logo is fabulous, and etched into all their stuff. The artful totem stirrer collection would be a great stocking stuffer.
Use your Pina Barware to make some whiskey drinks with small batch, farm to glass Wyoming Whiskey. This is a family run business that uses the spoils of the land to hand craft their award winning whiskey. I love giving high quality spirits as gifts because it's often a luxury that people won't buy for themselves and it's cheerful for the holidays.
As an alternative to adult beverages, how about a cocktail-inspired body scrub? Farm House Fresh's Butter Rum Liquor Infused Body Polish is made with aged rum and brown sugar so you can have a spa experience at home before the party. FHF uses clean, often organic ingredients.
Cute little appetizer or dessert plates can really lend a festive vibe to the table. I have a few sets because they are so fun to serve up cheese and crackers or pecan pie. Target's Christmas In The City plates are under $20, so you get a lot of bang for your buck, and what a cute gift.
Here's something for the insomniacs on your list. The Ettitude Sheet Set is made from soft Organic Bamboo Lyocell and elevates sleep to a luxurious, healthy experience. I'm to the point where I won't even consider non-organic or Oeko-Tex certified bedding because your skin absorbs gnarly chemicals from fabric. Besides being more plush, it's nice to know your skin is against pure, non-toxic fibers.
Every traveler needs a home security system. The Abode Home Security System is a user friendly, modular system that you can customize to meet your needs. It's extremely reassuring to be able to be able to check in on your home from anywhere, any time just by looking at your phone. This is wonderful gift for modern travelers.*Disclosure: Affiliate links below. As an Amazon Associate I earn from qualifying purchases at no extra cost to you, if you purchase via one of these links, thank you, this helps keep my website running!